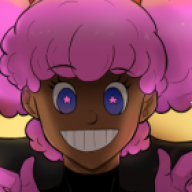 The Strongest
ADMINISTRATOR
Joined

Sep 3, 2015
Posts

8,222
Location
Pronouns

He/Him
The Reality Vortex

[video=youtube]
Listen closely! It's a new "beginning"
Why do you think this age is testing us?

Power is awakened in an unknown area
Unleash the light, aim for the ultimate level!
We will all clear a series of trials
And overcome what we are now

Forward down the path of distress!
Believe in infinite evolution
And fight!

So all I can do
And all you can do
Is take off and transform
Turn all the scars left on your body into marks of pride
Now all I can do
And all you can do
Is battle on and transform
Down the road of evolution
Touch and go!
​
A strange world where the impossible happens. Eons ago, a celestial object called daffodil star produced three seeds into the Abyss of Darkness. By absorbing the Dark Energy around them, they would grow into Cosmic Plants and create their respective worlds. However, a war broke out between them for sole domination.

In reaction, the daffodil star produced a fourth seed, Jinaira, into the Abyss of Darkness to discourage in-fighting. However, upon completion, Jinaira didn't participate in the war and created his own world instead, leaving the fate of those worlds to their destruction from the war.

Jinaira was more interested in creating his ideal world than some squabbles between Cosmic Plants. Since his creation was supposed to disrupt in-fighting, he was not granted the ability to create life. Thus, Jinaira designed his world to do the impossible: bring all beings from other worlds into Reality Vortex.

Thus, the birth of Reality Vortex was born. It was a world supposedly where all beings erased from existence gathered. There is no sense of time, scientific laws nor physics, no logical reasoning; it's all a jumbled mess. It is the last destination before permanent, true death. Once someone enters Reality Vortex, they cannot leave under any circumstances regardless of battle power or ability. To drive further home, Reality Vortex is enclosed by a powerful barrier that prevents anyone from leaving the world itself. It also protects the world from the endless sea of Dark Energy; otherwise known as the Abyss of Darkness and a creature that lurks within.

Jinaira's world was barren of life—it is exceedingly rare for anyone to be erased from existence. He'd attempted many times to forcibly will beings into this world—no matter their origin but failed each time. One day, a mysterious man appeared: Doctor Victor von Doom. He was in shock that someone appeared in this world and observed him. After days of studying the Doctor and his futile attempts to escape, Jinaira introduced himself to him. However long their conversation, upon Jinaira coming in physical contact, it overloaded the Doctor with Dark Energy and seemingly destroyed him. Displeased that his once chance to figure out what causes people to appear here, Jinaira leaves and seeks shelter at his manor.

Doom survived the encounter, and the influence of the Dark Energy invaded his mind. Unknown to Jinaira for a brief period, Doom built a machine capable of bringing beings from other worlds into Reality Vortex. Accomplishing this goal drove Doom to seek something greater: merging all worlds into one, where his rule is law.

Although time does not exist in Vortex, eventually, the Breakers formed. They were aided by a strange entity known as the Voice, a spirit guide of Reality Vortex. They were promised that if they obtain a device known as the "tools", the Voice will help them escape Reality Vortex and return to their home universes. However, these tools were currently in the possession of Doctor Doom and must defeat him to get it. After a cruel battle that erupted between the Breakers and Doctor Doom that left half of the group permanently erased, the Breakers gave the tools to the Voice as promised. In a twist of fate, after Voice gained his physical body, double-crossed the Breakers. He was only interested in regaining his body and reclaim his place in the world—revealing to be its Creator God. He cleaned up the mess from the final battle and established a New Reality Vortex (Reality Vortex v2). Afterwards, after giving them pity points of returning two people erased from existence, force the Breakers to "clean up" the act in the world as he himself take shelter to Vortex Moon.

Now the Breakers are left with a dilemma where they cannot return to their homes, and live in a world thrown into chaos.
Three years had passed since the events of Doctor Doom and Voice appointing the Breakers as "Overseers" of the new world. However, the Breakers, despite many challenges became idle in time, and failed to address the social issues rising around them. Ultraman sought to become the savior of the city through force by defeating the Breakers. However, time and time again, Ultraman was humiliated by the Breakers due to the differences in power.

Things changed rapidly; several new people joined the group for various reasons; Gogeta was looking for his brother, Panich was searching for her family, and Lucifer wants to find his disciple, taken by a warrior called the Coin Hunter. The Coin Hunter, known as Hart, was ambushing people, and taking them as Vortex Coins to even out the playing field against her attack on the Breakers, due to being an Alter being with inconsistency in power. From that moment, all of the Breakers realized that the world had changed dramatically underneath their noses due to not investigating or exploring outside of Reality Metropolis. In swift action, Gogeta had spectacularly destroyed the reputation of the Breakers as "feared" to "hated" due to his over-the-top violence, with Bernkastel enabling such behaviors, towards the people and the city in multiple incidents. One of them leading to a drastic change of Ultraman to figure out himself.

Hart revealed to the Breakers that she'd planned for years to defeat them as the only solution to release the agony existence she became, and free the world from its despair—even in the means of permanent death. Blaming the Breakers for the creation of Alter beings, Hart fought them in the Valley of Black Crystals, a dangerous area that harbors the toxic dark energy. Ultimately, she was soundly defeated and was taken away by Ultraman, now Vortex Man. Furthermore, due to the city in complete and utter ruins with no chance of being rebuild, and the people mostly left to other cities, Detective Goku forced the group under his watch—if they make a single mistake, he will arrest them on the spot. In which, Spina had declared himself as the new leader of the Breakers.

However, all the destruction, the blame and agony feeling of being exposed to hate from other parties, Cuki snapped at the Breakers. In that, it was revealed that her host, Byakko, had took control of her body for three years to see if the Breakers can identify him. Failing to do so, Cuki became enrage and scolded the Breakers for their actions, especially Bernkastel and Gogeta, the two that bond together over the pile of damage they had contribute. In return, the Breakers fired back, leading to a disastrous scenario where neither party moved from their position, until Spina slapped Cuki. In silence, the Breakers are left with a "ominous" cloud until the situation is resolved.
Premise
: The Breakers, now with new purpose, must lived with the consequences of their reckless actions and redeem themselves in the eyes of the public. The city utterly abandoned with no chance to being rebuild, Spina must lead the group to explore other parts of the world and rebuild the Breakers' name. They will encountered new characters, new enemies and then some; however, lurking underneath, a rising force is currently in operation, and sought to dominate the entire Vortex.
General Discussion Hub
Previous Chapters
:
Doom Arc
-
New Roads Arc
Reality Vortex Rules
The Breakers are the main characters of this story.
You are only allowed up to 4 characters to play at once.
You can have characters shift from Main Role to Supporting Role.
You can have a character leave for a period.
Nearly all rules that originated from the character's original world do not apply in Reality Vortex.
Death is not possible in Reality Vortex. If a character's body is completely destroyed, they will turn into Vortex Coins.
Only one character has the power to erased beings—and that belongs to the Voice. If the Voice erases you, this is a permanent death.
Be courteous to other players; do not metagame, make your characters have extensive knowledge, etc.
Transformation Clause will be limited until the Rampage Arc.
Rules are subject to change in the future
Last edited: