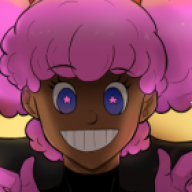 The Strongest
ADMINISTRATOR
Joined

Sep 3, 2015
Posts

8,222
Location
Pronouns

He/Him
A world of nothingness….​
Fairy Queen, Vosh, Alice and Canca crashed onto the ground.
"Ouch…." Canca said. "Is everyone alright? Still kicking?"
"Yeah…" Alice pinched herself. "Yeah, still alive." She noticed that they were in a completely, void less space. Perhaps, that is inaccurate. Everything was pure white, but there were multiple bubbles around them. Each bubble contained a group of people within it. Curious, Alice went to one of the bubbles and examined it. "What is this?" Alice tried to poke it.
The Fairy Queen helped Vosh up from the ground. "You're okay, Vosh?" Her ears perked when she heard Alice checking out the bubbles. "Wait! Don't go around and start touchin—" 
Alice poked it, leading the bubble to pop. Suddenly, Whitney, Kiki and her faithful companion, Hatty, Broly, Agatha, Silver Gunner and Edge-Man, came out and crashed onto the ground.
Edge-Man, with Kiki on top on the back of his head, opened his eyes quickly. "Damn… what the hell happened? One second I was fighting Broly, then all the sudden, a sea of darkness just rain down and… man, did a truck landed on me?" Edge-Man turned his head, seeing that Kiki was sitting on him. "H-hey! Get off!"
Broly's body was frozen, but his head was moving around. "What is this? Where am I?"