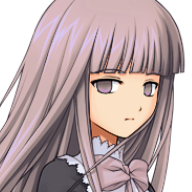 Joined

Sep 3, 2015
Messages

12,022
Location
As presumably with the other Breakers, Bernkastel and Berserk held perxplexed expressions followed by a few moments of glancing around to understand where they were once being sucked into the memory. Bern's furrowed brow only deepened with concern at being shown that the Red King was able to tear a hole into this barrier that had long been proclaimed to be inaccessible. Her shock subsiding at the abyssal darkness behind the portal, spiked again upon there being the sighting of a difigured monster appearing without warning and speaking in an ominous manner of enticement.

There wasn't any mistake about this alluding to the rabbit and the unknown entity part of the team had come across while snooping around the manor. However, since this was an immersive memory being given to them, Bernkastel knew better than to take what she saw at face-value. The Witch made a mental note to inquire about these supposed findings to Guardian later.

Shivering out of the weird fever-dream, Bern still looked rather puzzled. Then she looked over to see Cayde staring down Vegetto with an uncharacteristically angry expression on his mechanized face. Glancing between them she held a questioning stare trying to decipher the unspoken words being exchanged in their eyes alone. But then Vegetto spoke-- in contrast to reacting with rage upon being rejected as a returning member of the Breakers, he turned the tables to be him rejecting them.

But worse than that, he seemed to be goading the Xy'phers like he wouldn't fold in seconds; practically a suicide mission. His demeanor and words following Cayde's encouragement made it basically a meaningless effort on her front.
It wasn't that different than his usual toxicity, but its similarity to what Spina had said before about them not being family nor hardly friends didn't lessen the ability to dampen her morale on that front. Bernkastel's gaze began to smolder as her lips pressed together in a stiff line. She only let out an audible exhale through her nose, redirecting her focus on just getting themselves out of their current predicament.

"Enough with the guessing games. What is it-- exactly-- that you want from us?" Bernkastel sharpened her glare at the King, a tense edge to her tone.