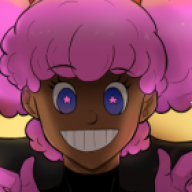 The Strongest
ADMINISTRATOR
Joined

Sep 3, 2015
Posts

8,222
Location
Pronouns

He/Him

It was said that during the chaotic birth of the universe, the Sky Temple was a place where many people have rested upon there. However, the Sky Temple seems to have lost it's energy to remained floating into the skies of Booga, and floated steadily on the Rim Ocean. There are rumors that there are many treasures, far than the wildest of dreams; which is eye candy for traveler. However, what lurks there.. existed powerful "monsters". Various of factions claimed that the journey to the Fallen Sky Temple is quite famous for many adventures to travel to. Due to it's fallen state; it's split into three different areas. 
Because of it's ancient ruins, it's protective by an powerful barrier beyond anything one can imagine. No beings is said to able to get through without forbidden magical arts. If one tries to break through, from the odd chance, the barrier instantly reformed itself faster than thought. There are various of rumors in regards to the temple. These were documents by travelers and their adventures.. but if up to the individuals to take these to accounts as fact or false.
Surface Floor 
- It stated as a resting spot. For some reason, monsters never, ever appeared there. It seems that they retreated form light that beams from the sun. So you'll see merchants and the like wandering around to see valuables and trade precious items in order to make a quick buck.
Sky Floor
- It contain many rooms that are occupied by monsters. Be careful, despite being a popular spot to journey too, it contain monsters that are extremely powerful
The Sky Temple Sanctuary
- Where there are many kinds of information regarding the "creation" of the world. However, no adventurer had ever managed to enter the final floor and made it out alive. Rumors had it that it's protected by a Guardian.