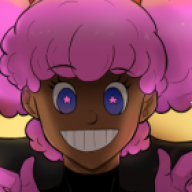 The Strongest
ADMINISTRATOR
Joined

Sep 3, 2015
Messages

8,249
Location
Paradice, Terra. The Core Vortex​
Long, long ago, people live in peace and harmony with one another. There was sense of unity, bonding and appreciation of one another. However, a dictator from a distant region rose to power, and he used the power of science to bulge the world into darkness and rule it with an iron fist. Using the destructive power of nuclear weapons, he destroyed his once beautiful region into a barren wasteland and set out to do the same to the other regions. After a decade, many brave heroes stood up against the dictator and ended his regime; however, his legacy of bloodshed managed to inspire the hearts of man. Expansion, gathering resources and the sort became attractive to potential rulers, leading to another series of wars soon after a moment in the sun.
One day a human was escaping from pursuers through the desert after committing high crimes against the lord of his own. He was on the run for days without food or water until he was unable to continue any further and stopped by a strange, black tree with a single fruit. Accepting his fate, he went to have his final meal. Suddenly, the human had taken on a strange form, one that has never been seen in this world. The human turned into a gigantic beast with so much tremendous power that no weapon in the world can rival it. The Beast walked among the earth, leaving a path of destruction in his wake until one man stood against this monster: Merlin, a man who held from Paradice that made the first attempts of attempting magic. The two beings clashed against one another in a great, epic battle, but eventually, the beast fell by the hands of Merlin as he emerged as victorious.
But at the end of all of this, the world was badly scarred: over 50% of all humans was killed during the Beast's rampage. Then upon their corpses, a new life spontaneously formed and appeared in Terra, beings called Demons—they bear similar powers and abilities to that of the Beast. Upon the Beast's death, a giant metropolis suddenly appeared out of his corpse, reaching new heights in Desolate Lands, protected by a powerful shield that prevents anyone from entering. From there, another wave of creatures emerges—monsters, mindless creatures that think nothing but pure destruction.
Merlin and so many others realized that things must change to improve the world. Centuries passed, some regions managed to strive more than others, while some remained stuck in the past with bitterness and hatred. It is not perfect, but peace was seemingly stabilized… however, things might upset the balance of peace once again as a new threat is on the rise.
Premise
: Grand Sorcerer Shine, the current leader of the Magic Society, is set to introduce a new wave of mages that achieved the rank of Battle Mage—the appropriate level for mages to set out in grand adventures and assist people around the world. As required, all battle mages will enter in teams so they can gain battle experience, work experience and explore many parts of the world.
The new Battle Mages, formed by the Magic Council, will received their first mission from Shine. There is someone in Desolate Lands that hadn't been heard for a while. He wants the team to find this person and bring them home safe and sound. A simple recuse mission that should be an easy task for newly formed Battle Mages. Of course, due to Desolate Lands being dangerous, he requested assistance from Valerie, a friend that oversees the Beast Slayers to ensure nothing goes wrong in the mission. However, it seems that a simple recuse mission will bring unexpecting adversaries.
General Discussion Hub
Core Vortex Rules
The [Pending Name] are the main characters of this story.
You are only allowed up to 3 characters to play at once.
Your characters can be human, demon, monster, mutants, robots, etc.
Your character will start as a Battle Mage.
Your character must be original—existing/canon characters is for Reality Vortex.
You can have characters shift from Main Role to Supporting Role.
You can have a character leave for a period.
Character Death is possible in this story.
Be courteous to other players; do not metagame, make your characters have extensive knowledge, etc.
Subject To Change