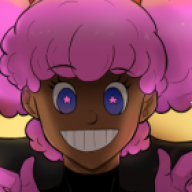 The Strongest
ADMINISTRATOR
Joined

Sep 3, 2015
Posts

8,222
Location
Pronouns

He/Him
Beast Slayers​
Chapter 001: Shadows​
Preface
: Six months had passed since the White Space Event that led to the entire BoogaVerse to be wipe away from Retcon's Reboot Spectacle. After Todasúl restored the world, with an ominous warning about future threats, the world begins its process of rebuilding and brings order back into place.
In Desolate Lands, guilds were extremely common in the region due to the abundance of monsters, demons and evil spirits. However, due to the lack of resources, manpower and foresight, guilds will cease operations within a year or so, subjecting Desolatians to the mercy of the beasts continuously. Inspired by the unified effort against Negative, all the surviving guilds merged into a singular institution: Beast Hunters.
The Beast Hunters is a Hunting Guild that primarily focuses on slaying various of different beasts in Desolate Lands. The objective is to build leadership and fellowship, creating a sense of a community. It emphasizes the importance of cooperation between fellow hunters by rewarding these efforts through completion of missions and protecting Desolatians from beasts. It is managed by a group of people called the Elite Five: Silence, Buccaneer Jack, Bronson, Deader Die and the leader, Valerie. They task the Hunters with missions, provide food, shelter, support and resources, and hire mercenaries.
The original building, previously known as Crescent Hunter, had expanded greatly to support the influx of new Hunters joining their institution. It add several elements from previous guilds to covered plenty bases for the Hunters. New additions includes: Mess Hall; a Great Library; an Infirmary led by Doctor Camellia; several training areas by Instructor Jason; a resting floor; a Weapons and Armory workshop; Priscilla, a large pirate ship; and finally, the Elite Five Meeting Room.
Under new direction, the Beast Hunters aims to become a glimpse of grace in the region filled with ruin. The future of Desolate Lands is now under their hands, with various beasts that lurks in the shadows, unknown enemies working behind the scenes and the ruthless Dalv tribe that controls nearly all valuable goods and resources.
Information
Key Rules
It is required to create a character box before playing in BoogaVerse.
You can only play 4 characters per chapter.
Your characters cannot be in multiple chapters at the same time.
Do not break established lore in BoogaVerse.
Do not godmod, bunnymod or metagame.
Death can be an option for your characters.
If you want your own arc villain, you must discuss things with me, and we'll work something out.
Premise
: After six months of rebuilding, the Beast Hunters is now operational, and able to send its Hunters to various missions across the land. The Elite Five, looking through various reports, seen that there is still a contested issue in Garden Town; a town overrun by Goblins to hunt the precious flowers called Red Flowers. Using information gathered by Bronson and Monster Hunter, the Elite Five made their first move under the Beast Hunter banner: eliminate all Goblins and liberate Garden Town. Will the Beast Hunters leave a good impression in their first mission in a unified institution?
Focus Areas
The Beast Hunters Guild
Garden Town: a poor, rural town with no reliable source of food, water or utilities to function. It was once a beautiful town with beautiful, rainbow flowers. However, due to the Great wars, it decimated the town, and the flowers lost their colors, becoming bloody red to reflect the destruction.
Field of Bloody Flowers: A strange field of flowers that contains strange power. An influx of monsters attack the town to consume the flowers—which increased their powers and magic capabilities to unimaginable levels. And no matter how many times the flowers were picked, it will regrow within days.
Goblin's Lair: a strange, secret lair that is home to the Goblins and holds their leader.