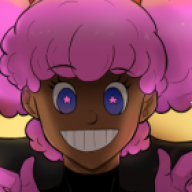 The Strongest
ADMINISTRATOR
Joined

Sep 3, 2015
Posts

8,222
Location
Pronouns

He/Him
ShineCero's Characters Box​
Name
: Red
Age
: 27
Gender
: Male
Birthplace
: Quiet Town, Empire State
Position
: Hero
Height
: 1.7 m
Weight
: 90.5 kg
Species
: Human
Appearance
: Red wears a white tank-top underneath with symbols of various deities with a red, wore out coat. Accompany with the top gear, he wears a light grey sweatpants and black sneakers with blue dots around the edges. He has light brown skin, black medium hair, with the front bangs barely covering his face. He has red eyes, small nose but has a scar riddled across the bridge of it. Red has profound eyebags, having the facial expression of looking tired all the time; as a result, he rarely opened his eyes. 
Personality
: Red has a slow personality—not in intelligence, but in terms of activity. He moves, work and even talks in a slow pace due to constantly being tired. If given a task, any task, he would rather take a quick nap instead. Even in the face of danger, he would rather skip it in order to sleep in. However, make no mistake, he has a good heart and good with children and animals. It just that in general, he prefer sleeping than doing any hard tasks that takes too much energy to waste. Don't mention any kind of criticism towards coffee or caffeine—he believes that they are a gift from the heavens. 
Special Ability
: Sleepwalker is an ability Red achieved when falling asleep during battle. Normally, when Red is awake, but sluggish, he's as average can anyone can be, but once he falls asleep, he becomes a formidable foe. It increased his stats dramatically, including physical changes such as his hair becoming spiker, increased in muscle mass and his eyes wide-opened with no eyebags in sight. As a bluish-white aura emitted around him, he can remain in this state once the battle itself is over.
Attacks
: Once he enter this state, Sleepwalker, he gains powerful moves and techniques.
Sleep Combo: A concentrated punches and kicks that unleashed a deadly and devastating blow onto the enemy. Once it connects, it will leave them in a daze and staggered for short amount of time.
Hypnotic Destruction: Moving a high speed, Red passes by the enemy without lifting a finger on their bodies. His afterimage he leaves behind surround them, draining their stamina, causing them to be exhausted. 
Dream Terrors: Puts an enemy into sleep, but their dreams become chaotic and destructive as the result and unable to wake from them.
Final Awakening: Once an enemy is asleep and trapped in the cycle of Dream Terrors, their minds will be engulfed in  pitch black; suddenly, Red attacks from all sides in rapid succession in a brutal assault. Once the assault ends, the enemy will instantly awake from their dreams, but the damage they took becomes reality and the damage triples. 
Biography
: Born in Quiet Town on the outskirts of Empire State, Red had, no pun intended, a quiet and peaceful life. He was loved by two-loving parents and well-liked in his community, despite his slow demeanor. However, as he grew older, he was feeling the pressure of getting a job to support himself by his peers to make a name for himself. So, he decided to become a hero in hopes of having it easy with a good-paying job and easy tasks.