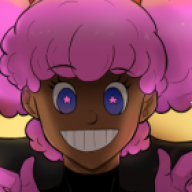 The Strongest
ADMINISTRATOR
Joined

Sep 3, 2015
Messages

8,250
Location
Name
: ShineCero
Age
: 22
Gender
: Male
Birthplace
: Laughlin, Paradice
Position
: Rouge Mage
Height
: 1.5 m
Weight
: 55 kg
Species
: Human
Appearance
: ShineCero is tall, medium build and has dark skin. He has brown eyes and currently bald (but he does have black hair) and has a scar on the back of his head. He wears a white tunic with black markings around the shirt collar. He wears a large, sash around his waist that has black and white checker patterns. Finally, he wears a black and blue robe with a hood, along with blue trousers and combat boots.
Personality
: ShineCero has a quiet personality and more focused on his work than participate in social events. He does have a sense of humor, but it's rather dark taste rather than typical knock-knock jokes, and especially says it at inappropriate times.
Weapon/Items
:
The Shining Staff is a powerful magical weapon that's able to record many spells with ease, giving ShineCero plentiful of ammunition to summon magical attacks that isn't in his normal move pool.
Darkness Cards is a collection of five different cards, each having their own purposes. Together, they formulate an incredible and strong barrier around ShineCero.
Magical Attacks
: ShineCero is capable of learning a large variety of spells thanks to his staff, but there are original attacks that he came up himself. 
Negative Hole: Able to formulate a mini-black hole and sends towards the enemy to destroy. Its gravitational pull is just as strong as a black hole.
Fallen Dragon, Rain of Life: Rains down green-like energy attacks that snaps the enemy's stamina and heals the user.
Teleportation Crash: Where he can teleport himself in different areas within in instant, sending a barrage of attacks along the way.
Thunder Dragon God, Thoron: Summons a powerful lightning strike to struck down the enemy
Chaotic Dragon Lord, Hell Raiser: Summons destructive flames and engulfed the enemy with it.
Blooming Ice Dragon of Destruction, Absolute Zero: Summons a tsunami of water that crashed onto the enemy, then instantly freezing them in place.
Birth Dragon, Extreme Dark Void: Summons thousands of dark orbs around the enemy, attacking them from all directions. 
Purity Dragon of Light, Screams of the Fallen: Multiple lasers instantly formed around the enemy and striking them down until they are nothing more than mincemeat. 
Paradise Dance: ShineCero's strongest attack. He summons two orbs, one of light and one of darkness, and sent it towards the enemy, engulfing them in whole. It will transition from light and dark rapidly until it lands on a single color: It will snap their life force out of their body instantly if it lands on light or completely annihilate them into nothingness if it lands on darkness.
Magical Buffs/Debuffs/Status
Spirit of Rage: Raise one's attack
Guard Boost: Raise one's defense
Extreme Speed: Raise one's speed
Ultimate Strongest Field: He creates a powerful, dense barrier that prevents damage from any forms of attack.  
Gravity Disruption: Manipulate gravity and pins down the enemy
The Void of Nothingness: ShineCero rips a hole in space and time and sends them to another dimension. It takes an enormous amount of stamina to pull this move.
Biography
: ShineCero was from a poor town called Laughlin, Paradise. He became interested in magic at a young age when he saw a little girl crying over the loss of her dog. In attempts to make her smile, he taught himself various magic spells, showcasing his fast learning ability to replicate skills and performed various magic he observed earlier to cheer her up, with success. This was the first time that land ShineCero a spot in the Magic Society. As he grew, his magic skills became profound and advanced that the previous leader picked him as the next leader of the Brotherhood of Black Magic. ShineCero continues to improve his own skills and sought to create a brand-new magic. He resigned his position as Grand Sorcerer after the White Space Event.