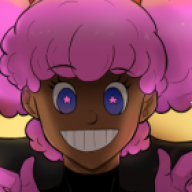 The Strongest
ADMINISTRATOR
Joined

Sep 3, 2015
Posts

8,222
Location
Pronouns

He/Him
This is a re-creation of my original art thread, this time with more accurate (and surviving) links, and new content to bring out. If you want to request a drawing from me, you can head over for this thread:
ShineCero Draws For You
. I do not do commissions, I don't need your pennies, folks!
I have been drawing for practically all my life; have done paintings, full scale drawings, even digital artwork when my tablets was still kicking. However, as of recent years, I've lost the spark and haven't produce as much content. However, my spark returned, mainly, because I want to iron out in my skills even further to improve myself, and want to honor my Dad, since he always enjoy my works. 
I'm comfortable of replicating other kind of styles—of course, it will take me some time to do so. I am planning on a comic series called Good Days, a space fantasy story, so I will dump some character designs in the future.
Any who, I will be posting my artwork exclusive on this forum (and perhaps, sometimes on Twitter whenever a Redraw challenges occurs); so, don't ask about any other social media sties to follow—I don't have one (and not planning on doing so). I will also post "sketches" that will be use as a guideline for the final project—think of them as rough drafts. Once I finished the final projects, I will
the early drawing and compared with the finished product. I feel like it gives users a sense of satisfaction to see the differences between two artworks.

All and all, hope you can enjoy some of my artworks! It's not as good in comparison to other artists, but I hope it's good enough! Thanks for stopping by. 

I drew Rosalina from Nintendo's game, Super Mario Galaxy.

I was messing around with the ideas of "What if Months were waifus?" and these were the first creations of said idea. I might end up finishing all the other months in the upcoming weeks.

Suyoi's Father was first created in a short comic, Box Samurai. Originally, I had an idea where a man, with a box on his head, goes around and killing all sorts of creatures in his world. Eventually, this idea was scrapped and tons of elements of that idea found its way to Good Days.

As you can see... I love abstract artwork!

Drawing buildings and the sort is always a weakpoint of mines, but I felt this was good enough!

Dancing is forbidden.

I drew this woman for the Life Drawing Event competition. It was very difficult to drawn from realism, but it was good practice! I hope we can do another one of these things in the near future.

The main antagonist for the story, Good Days. He's designed for absolute destruction... that is his purpose. When facing death, he will self-destruct his body to destroy the universe.