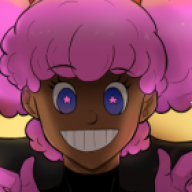 The Strongest
ADMINISTRATOR
Joined

Sep 3, 2015
Posts

8,222
Location
Pronouns

He/Him
A separation from my main art thread, with a focus on art requests. So, if you want to request a drawing from me, I shall do my best and honored your request. Please note that I do not do commissions—don't give me your sheckles. Smiles and hugs is enough for me, yo! I'm doing this to sharpen my drawings even further!
Using the same concept as my art thread, I will post a sketch, then the finished product as comparison. Thus, just simply put your request, in explicit detail and areas, and I shall try my best to replicate it of my ability. I'll accept any request, as long it's not in sexual nature (i.e. no munching the carpet or grabbing twigs and berries), but sexy poses or anything like that is OK. I won't give you an exact time--it will be done when it's done, but it usually within 1-3 week timeframe, depending on my schedule. I will let you know if there is any delays of your request. Please don't drop down multiple requests--do one at a time!
Here's are example of requests I had drawn for the following users
@"~ Z ~"
@"LoopyPanda"
@"Vegetto"
---
I will try to do full color as well, but it will take an extra bit of time for that though, if you don't mind waiting.