As you may have noticed, I recently have begun playing GTA San Andreas again and have increased my Special Vehicle Collection, with a total of
65
vehicles in my current finished playthrough.
So, in commemmoration of that, here's another trick that I've discovered that helps in storing as many special vehicles as possible early in the game. And this trick is the ability to use the
Doherty Garage Early
trick.
The Doherty Garage, which is normally unreachable until the events of 'The Green Sabre', is actually available to use and store vehicles in from the very start of the game, however, if one were to enter the area of Flint County
before
the events of 'The Green Sabre', you'd get normally slapped with a 4-Star Wanted level. However, there are a few moments where one can
safely
cross and explore the area
without
getting a wanted level and
without
the use of cheats!
For example, in the mission
Just Business,
during the shoot-out scene against the Russians outside the Atrium, wanted levels as well as regular traffic are
disabled,
which means you can take down only a few Russians and then bail out of the area and head to the nearby gas station where a parked Broadway is present there. In fact, the ONLY vehicles that will spawn in the area are the ones parked in parking lots and other 'scripted' areas as well as your garages. From there, you can use the Broadway to drive to a garage, pick up any fast bike you've stored (PCJ-600, BF-400, FCR-900 and NRG-500 for example), and drive towards the Santa Maria Beach area (but
avoid
the area where Big Smoke has his shootout with the Russians!), towards the bridge leading into Flint County.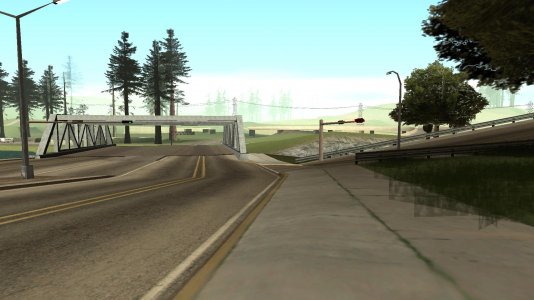 Drive with high speed on the bike over the area between the crash barrier with traffic light and the bridge post, and this will land you
safely
into Flint County, with NO wanted level to speak of! Now you can drive all the way to the Doherty Garage, store the bike there and then return to Los Santos to either continue the mission or pick-up the next bike if you so choose.