This post will detail the steps needed to obtain up to
two
All-Proof HPV1000
Police Bikes from the mission 'Small Town Bank'.
All-Proof means that the bike is Bullet/Damage/Explosion/Fire AND Melee-proof, the only ways it can be destroyed is by e.g. hitting the bike while wearing a parachute or dump it in the water.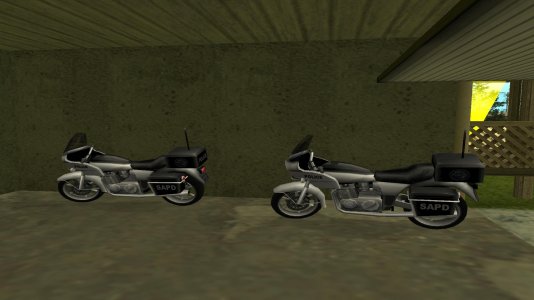 How to obtain these bikes:
What is needed:
Storage space in the Palomino Creek Safehouse
The steps:
Start the mission 'Small Town Bank', which can be started after doing either 'First Date', 'First Base', 'Gone Courting' or 'Made in Heaven', depending on which of the robbery missions is done with Catalina.
Proceed with the mission until the cutscene has played of the two Police Bikes entering the alley during the backalley shootout.
Shoot Catalina down to kill her, which fails the mission.
Now get on either one of the police bikes if you want to have just one and take it to the Palomino Creek Safehouse, but beware of the Wanted Level that you still have. If you want the other Police Bike too, get off of the first one after getting on it and step onto the other, this prevents it from despawning for a while, just enough for you to retrieve it still if you're fast and skillfull enough.
Save your game after storing either one or both police bikes, which will clear the wanted level.
You now have two invincible Police Bikes at your disposal, which can come in handy in case you wish to tackle the Vigilante side mission.