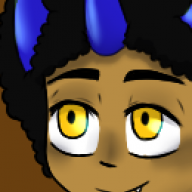 Joined

Sep 3, 2015
Posts

462
Location
Registration!
Planning thread!
The digital world has had a major change due to an outside force. Its normal system has been overidden by a virus network system which reprograms all digimon coding in their digivolution lines, causing misconstrued digivolutions, giving digimon like Agumon the ability to digivolve into Flarerizamon.
Tamers can somewhat control this through the use of their digivices. Depending on how you train your digimon, you'll be given a barcode to scan and use with your digivice. Some codes give boosts in battle, while special codes determine what evolution you'll receive.
Crash digivolution:
1. Barcodes will be accessible through training. Your digivice will alert you when you've earned a digivolution.
2. What digivolution you receive will not be known until you use the code. Main line codes will be saved into your device.
3. If your digimon has been treated or trained poorly, the code will be for a dark digivolution.
4. Codes can be exchanged between tamers for further digivolution options. This is called Datastream Digivolution.
5. Not all codes will be compatible for all digimon.
6. Earning a code for a warp evolution is possible, but you will be unable to use said code until you reach the level before it.
7. Datastream Digivolution will also lead to DNA digivolving if two gamers find their codes are perfect matches.
While original digimon are not shunned, using already established digimon will make this a lot less confusing for both parties involved. If you've played Digimon World, you'll have an easier time getting use to this.
Restrictions:
1. Your partner is not a Royal Knight, Demon Lord, etc. They can be the same type of digimon (Gallantmon, Beelzemon, etc), but they are not THE member of the group.
2. You cannot skip training and still digivolve. If you wanna do a montage, I'm okay with, but day what kind of training you did (strength, speed, etc).
3. You are not a Canon character. You are not Taichi. You are not Takato. You are not Kail. Deal with it.
4. Rules may just adjust to the game. Stay loose.
5. If you have any questions or wish to add a plot point, let me know. Do not just add something without asking.
Have fun!
---
Forte is sitting at a table in the food court, enjoying his lunch.
"Got one more class, then I'm done for the day. My idiotic self just had to get all morning classes..." he says, scratching his head.
He pulls out his phone and starts smiling while he pokes it.
"You're enjoying your lunch too, huh?"