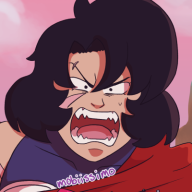 Joined

Jan 6, 2016
Messages

714
Location
"Alright let's go," Zibarica shook his head to get himself under control. "I apologize in advance for the bumpy ride!" The namekian quickly led Kire outside before sweeping him off his feet and into the air toward the surging power. 

"AY! WHERE YA ALL GOIN'?" Panich shouted toward the bar exit. "We're not done here! Who the fuck's cuttin' in on my downtime..." 

The princess then shot upright and grumbling to herself, knocking over the jugs and glasses left behind by the few who left. Paprika and Basil turned to each other with panicked and worried glances. Basil rushed forward cutting his mother off from the door.

"Hey, Hey! Mom, why don't you take a nap? Dad's got it under control." He grabbed hold of her arm and swiftly turned her around toward the bar again. 

"I ain't a toddler!" Panich scoffed but thankfully didn't resist. "Don't need no nap! YOUR MAMA'S GONNA KICK SOME ASS!"

----------------------

Bage's eyes widened at the figures, seeing Vegetto jr. within their grasp. "You got me... But it looks like they need help. We should go."