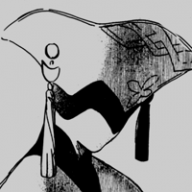 Joined

Sep 3, 2015
Messages

11,553
Location
"Oh wow, I actually managed to summon him..?" Jaz said while she stared at the sudden change in the environment. "But something feels...off."

Jaz's eyes widen upon hearing Valkorian echo within her head. She remained speechless, listening to his warning and the rapidly warping area around them. Jaz took a step back towards Junior, knowing that this was not Valkorian's doing. As Valkorian's voice faded, Red Mist spoke up from the depths, a low chuckle coming from her voice.

Oh my, scared even in death... is this the great Valkorian people grew to respect and fear? I heard nothing but a man whimpering in the shadows... 

Jaz shook her head to rid the voice of Mist and Valkorian before witnessing the newly formed figures surrounding her and Junior. Within that moment, KABS lit up before engulfing Jaz's body in the protective suit when it sensed a high energy signature. The core blinked several times, trying to figure out the enemy and their power. From the inside of the visor, it rapidly traced over the ghostly figures in a blinking red outline, desperately trying to identify the enemy. There was a pressure felt within Jaz's chest as if her very life was being sucked away by the new beings before them. KABS's core stopped blinking before speaking out to Jaz.

Lady Jaz, this is a powerful enemy! My sensors indicate that their power is beyond that of even Vaylin!

"W-What..?"

You must leave now!

Jaz noticed one of the figures approach her and she instinctively released her blades, standing in front of Junior protectively. She trembled slightly, never having sensed or faced this type of energy or power before. Her chest was tight but she tried her best to remain calm and braced herself for whatever might happen. When the figure was close enough to Jaz, she not only heard his gargled words but felt an intense gripping feeling of death. Although not visible from her KABS visor, the expression on her face was fear.

"I don't think they'll let us go so easily. Somethin' about the Immortal Emperor," Jaz said to KABS. She turned to Junior. "Junior, what are these things? They don't look... friendly. I've never felt anything so draining..."


---


Kire glanced over at Beerus as he angrily babbled nonsense to him. All he did was offer a cocky smirk to Beerus, humored by his drunk status. When Beerus passed out on the floor, he laughed loudly.

"He bonked his head and passed out like an idiot, so much for bein' an all powerful God of destroyin' of somethin'." Kire chuckled until he felt the earthquake and the sinister feeling from an unknown source. He gasped, placing his hand over his chest for a moment and stared at the others. He wasn't as powerful as them, so he assumed they didn't feel it. He glanced towards Gogeta Jr. and knew that he wasn't the only one to feel it. He stood up and took a step back from the others, holding out his hand to show a map of the nearby area. The redhead began to type on a holographic keyboard before it showed four large glowing dots, indicating the beings that appeared. A small indicator appeared around the dots flashing the words 'Danger' and 'Critical.'

So that's where it's comin' from. Yeesh, that looks nastier than Vaylin's, ain't no joke. So... where's Jaz and Junior?

With a few more keystrokes, two smaller dots appeared directly above the four dangerous ones, no doubt showing the location of Jaz and Junior. His skin turned pale and his eyes widen in sheer panic. Kire backed up before tripping over a chair, the hologram closing as he landed on the floor. He pulled himself up, staring at the others with eyes full of terror.

"J-Jaz... and Junior! T-They're in trouble!" Kire said, nearly speechless. "You gotta take me to them!"