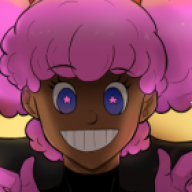 The Strongest
ADMINISTRATOR
Joined

Sep 3, 2015
Posts

8,222
Location
Pronouns

He/Him
The Magician Square
is a gathering of salesmen that attempts to sell quality products to traveling mages for a profit. Services which includes healing, rooms for resting, quality restaurants and small-name stores that sell goods. You can trade and gain the most valuable of goods that you can find. Even tourists from other countries travel through Magician Square to obtained goods that had yet to be available in other places in the world. It's a no-brainer why the Magician Square is referred as the trading capital of the world.
Magician Square is located on the northern outskirts of the Paradice, near the Snowy Mountain Gate and Bridge that connects the two continents. The Gate was built in order to prevent monsters from invading the Square. Furthermore, the Gates is coated with a powerful magical barrier that prevents thieves from breaking out of the Square after stealing goods.
Take note that there are conmen within the Magician Square that sells phony materials and off-brands goods. They prey on the weak in order to drain as much money as they could before looking for the next victim. So be careful!
Notable Areas of Interests
Snowy Mountain Gate
: A powerful Gate at the end of the Magician Square and the Snowy Bridge that connects to Empire State. It is coated with a powerful barrier to most prevent monsters from coming in.
Jolly's Restaurant and Hotel
: A restaurant that cooks up quality foods and provides room services for travelers. They even allowed you cook your own foods for free.
White Nurse of Para's Clinic
: A clinic that heals all wounds and status illness. Originally there was a hefty price for healing; however, after a certain incident, she offers her services for free.
Festival Tree
: In the middle of the Magician Square, there is a tree that supposedly grows fruits that temporarily boost up your magical attacks. They distribute the fruits every month when a Magician Festival starts.