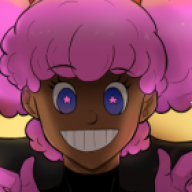 The Strongest
ADMINISTRATOR
Joined

Sep 3, 2015
Posts

8,222
Location
Pronouns

He/Him
The Endless Desert​
The Endless Desert, located in the middle of Desolate Lands, is the largest desert in the continent. Stretching over 1600 km² wide, it is a barren area of landscape, with little precipitation, living conditions hostile for most plant and animal life, and endless distance of sand. As any permanent human settlement is not possible, there are concentration of monsters and mutants striving in certain parts within the area; making the desert a no-safe zone for travelers without an escort.
Attempting to cross the desert without an escort is trying to find a needle in a haystack: it is a moot point. The temperature rise and drops dramatically, depending on the season: on a hot day, it easily rise over the hundreds; on a cold day, it drops below zero. One should not foolishly attempt to cross the desert without some form of preparations. Any travelers with no knowledge of magic falls under a mysterious illusion: which prevents them from leaving the desert. It is a spell to stop travelers from finding the castle where the Ancient Dragon Guardian rests.
Referred as the Endless Illusion, there are multiple sinkholes spread around the desert. If one were to fall under the sinkhole, they will be transported to a random location in the desert, completely throwing off their tracks.
Notable Areas of Interest​
The Neusch Castle was the ancient home to the Dragon Guardian, Dragore, for its deeds of protecting the world during the Crisis Era. However, after the Great Wars, Dragore abandoned its duties of protecting the land in disgust of how humans acted during the event. Centuries passed, the castle is under a protective barrier to prevent any outsiders from entering its domain—assuming the travelers managed to break the Endless Illusion.
The Cactus Spring Water is a singular, large pond is located on the edge of the desert. Based on appearances, the pond is sparkling blue; a waterfall that constantly runs and lastly, delicious fruits next to delicate trees for one's hunger. However, in reality, the pond is actually radioactive liquids that build up over the years from the excessive nuclear waste eons ago.
A tribe of Cactus Monsters surrounds the pond, but to the eyes of the travelers, they look like ordinary cactus. In truth, they are a predator group; they would stalk travelers that are close to dying of thirst or hunger and sought their flesh once they succumbed to them.