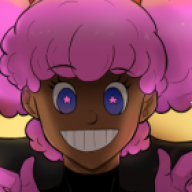 The Strongest
ADMINISTRATOR
Joined

Sep 3, 2015
Posts

8,222
Location
Pronouns

He/Him
Welcome to the November Art Challenge! You will find all art challenges throughout the month with different themes at your leisure. All challenges have their own end-date, awards, and other goodies. If you tackle them all, you will be granted an November Artist Award, which features Blackbear Bosin, who is a well known artist, whom his greatest work is the Keeper of the Plains.
All Art Challenges ends on November 30th at 12 AM PDT/ 3 AM EST / 9 AM CET / 3 PM MYT
To enter, please post your finished work in this thread once you complete it. You can use anything in your disposal for this challenge to create your piece. If you're using digital drawing, make sure your work has an aspect ratio of 16:9 (1920x1080, 3840x2160, etc.). If you're using traditional work, you can deviate from the aspect ratio. Please use IMGUR for uploading your artwork!
---
Redraw Challenge #12​
Taking on this challenge, you will be task on at least redrawing one key screenshots!​