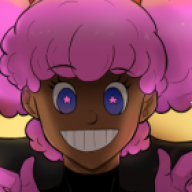 The Strongest
ADMINISTRATOR
Joined

Sep 3, 2015
Posts

8,222
Location
Pronouns

He/Him
---
No More Heroes Anarchy​
---
Premise
: The Busters Organization is a group of Specials who banded together to deal with problematic specials in their own way in hopes of changing the public opinion on them. However, their activity is increasingly becoming more dangerous as their popularity increased, drawing in unwanted foes. 
Important Links
No More Heroes Anthology: An informative lore section regarding Specials and the world; it will include links to each chapter thread.
Play-Thread
General Notes
Specials are human beings; despite having powers, bullets and such will still kill them.
The story will not be on hold. So if you do not post within the week, we will skip you. 
Do not introduce outer-space elements or anything of the sort. Galactic Ruins has all that space magic.
Do not metagame, powerplay, godmodding or bunnymodding.
Expanding metagaming, do not mix your knowledge with IC (in character) with OOC (out-of-character information), your character(s) do not know everything.
The maximum character limit is 3; you can choose to introduce a new one if one dies, but they cannot be used until the next chapter.
Need help figuring out your power? Check the Power Wikia.
Do not introduce your "new story" as an arc without approval.
For three arcs, the villains will be maintain by me; players will have a chance to introduce their villain in the future.
Character Registration Rules
You can create up to three characters (max) throughout the duration of this roleplay.
Death is possible in this story; however, if your character dies and you want to replace them with a new character, they will not appear until the next chapter.
You have an option of making your character a villain.
ONE of your registered character will be part of the Busters.
You can only have ONE power for your character.
Once a character went through approval in registration, you cannot create a character with the same power (including variations).
Banned Powers: Magic/Magic Energy, Omnipotence, Omnipresence and Omniscience, Absolute Immortality, High-End Reality Warping, Instant-Death, Life-Drain (Death Version), Invincibility, High-End Intangibility, High-Level Space/Time Manipulation, Probability Manipulation, "Future Sight", and Time Travel Manipulation.
Character Template
Name:
Identity Name: If one of the character is an entertainer or part of the Special Task Force, you can give them an identity name.
Birthday: 
Power:
Weakness:
Age:
Gender:
Ethnicity:
Appearance:
Personality:
Background: (Optional)