The Realm of Absolute Destruction... or just the Realm of Mylinta, if you prefer. It had aspects of all the seven demon realms, but at the exact center of the dimension is a tower of Black Obsidian where Mylinta, Primordial Goddess of Destruction and Punishment lives and punishes the most evil souls in the universe. Today is where a great battle would be fought... and where one of its combatants lived.
Mylinta, Primordial Goddess of Destruction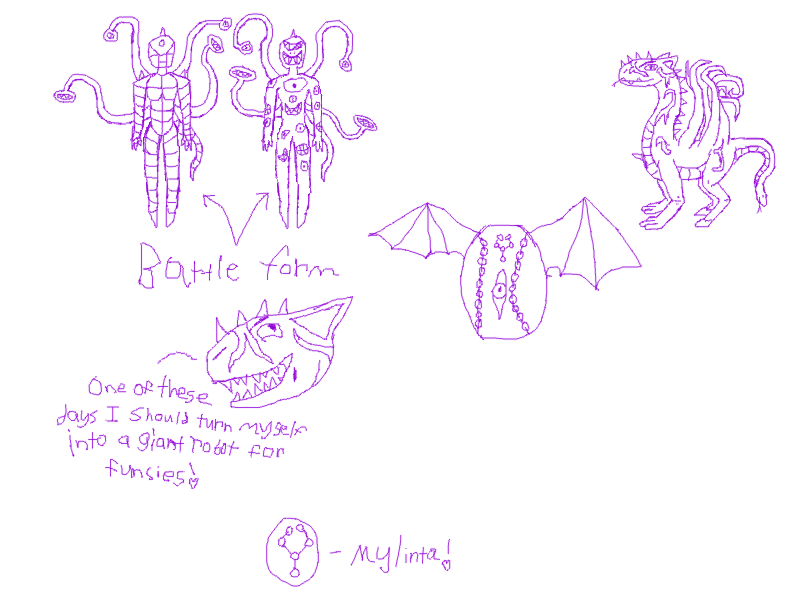 As a primordial, Mylinta's power knows few equals and only one superior. Mylinta's true body is the size of a planet, but she projects a solid illusion called a false body that she uses to channel her powers, save energy, and more efficiently travel. Mylinta has a huge variety of powers and abilities, all the better to destroy shit with. As a primordial, she has the power to create or destroy just about anything nearly instantly- she simply prefers to destroy. Her False body can shape shift, though it usually appears as the four-legged being above.
Attacks: Mylinta has two kinds of attacks- Divine punishment attacks, and just plain destruction attacks.
Divine Punishment attacks: Flames of Wrath (breathes 10,000,000,000-kelvin flames that scorch the very soul), Fog of Lust (summons a pink cloud that encourages foes to make love, not war), Crystalline Greed (fires a million razor-sharp, teal crystals to cut enemies to ribbons), Sandstorm of Gluttony (Pretty self-explanatory), Envious tide (Blasts water at insane pressure- more than enough pressure to drill through steel), Blade of pride (Summons a sword that she uses to attack.), Haze of Sloth (drains an enemy of health and motivation, also healing her in the process), Great Absolution (Combines all 7 of the previous into a black beam)
Destructor attacks: Tentacle lash, Stomp, Bite, punches and kicks (Battle form),  Nuclear breath, Destructor beam (A very precise attack akin to Frieza's death beam), Obsidian blade (summons a sword made of obsidian- not as powerful as a blade of pride, but she's more likely to use multiples), Molecular disruption (Attacks the very molecules that make up an object, shattering them.)
Other abilities: She can create and command demons of her universe, as well as cause any number of natural disasters- she simply doesn't do so in battle... not that she fights often.
Anything else you should know? She's a sadist and doesn't usually like to use her strongest attacks and powers since that would just be boring. She's has a bit of all of the 7 deadly sins in her to some extent, but is surprisingly not necessarily evil herself... at all. Rather, she simply keeps the universe in flux, helping her sister (Milira, goddess of creation) maintain the cycle of Rebirth. She'll also be in combat form for most of this battle.