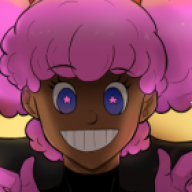 The Strongest
ADMINISTRATOR
Joined

Sep 3, 2015
Messages

8,250
Location
LoopyPanda said:

I couldn't stomach to finish the entire photoset. So much of it sounds like what a predator says to a child they're grooming into not telling their parents about what the predator did. The language here is so discomforting and it creeps me out just being a passerby reading it. 

If you are not easily distraught by the subject matter, it becomes readily apparent why he was told not to publish it "as is".

Btw, is it me or are the Boo-boo and Yogi drawings a little off-putting out of context?
Right? I wouldn't be surprised if his lawyers were trying to grill his tiny head that this is probably not a good idea to post this right at the moment. It seems to be that they tried their best to edit his content, but John K is probably have his head so far up his ass that it was futile. 
I think that Boo-Boo drawing was from cartoon that appeared over and over on Adult Swim at one point. It was jarring and not in a good way.
The worst part about this whole ordeal? The fact that he posted a picture of himself and the victim. Talk about tone deaf to the highest caliber. Or maybe he just an damn idiot and just doesn't give a shit.