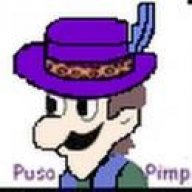 Joined

Nov 23, 2015
Messages

248
ShineCero said:

JamesYTP said:

Watched Isao Takahata's first movie Horus Prince of the Sun the other day. For a 50-year-old movie, it's pretty good and there were a lot of really interesting "camera" techniques you never saw in anime in the late 60s. Caught up on Boruto recently, started watching Pop Team Epic and Bungo Stray Dogs too recently. The former is delightfully weird, the latter is kinda disappointing to me so far since it was a recommend from someone whose recs I've almost always liked so far but we'll see.

I highly recommend you looking at Not My Fault I'm Not Popular if you can handle cringe humor, and Goblin Slayer. The latter is a dark fantasy, but with an unique touch with DnD elements.
Not My Fault I'm Not Popular...that's the long version of Watamote's title isn't it? If so I enjoyed that one very much. The most fascinating thing was the different reactions to it, I've heard it called things as dark as "Sylvia Plath and Holden Caufield had a really awkward baby" to "it's the funniest thing I've ever seen. I thought it was both kinda lol. Will check out Goblin Slayer though.