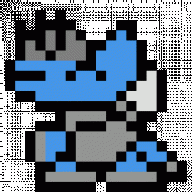 Joined

Sep 4, 2015
Posts

57
Location
Website
There's nothing in the rules saying I can't simply post a link to an off-site post of the fanfic I'm working on as of late, so I'll give you guys the Fanfiction.net link to my ongoing Pokemon fanfic; Truth and Ideals:
https://www.fanfiction.net/s/10715952/1/Truth-and-Ideals
Truth and Ideals is basically what happens when I get really bored and want to do something to curb my frustrations over disappointments I've had in certain media. Basically, taking a plot very akin to Pokemon Black and White and incorporating anime elements to create the TAI AU Canon. The story stars a 16 year old Ash Ketchum and his two childhood friends Cheren and Bianca. Beginning their Pokemon journey across Unova, they are quick to learn that the three of them will soon become involved in a greater scheme revolving around a group called Team Plasma, a mysterious man named N, and a Lucario who seems to have some sort of history with Ash's family.