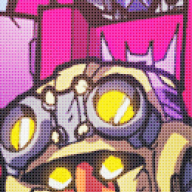 Joined

Sep 5, 2015
Posts

297
Location
Website
Premise:
 The war is over, and Unicron is defeated. Autobots, Decepticons and neutrals are now working hand in hand to rebuild their home planet after the battle against Unicron. In trying to restore tradition and bring Cybertron to its golden age glory, Rodimus leads a rag-tag team on a search for the legendary Knights of Cybertron, following an incident that led to a discovery of an ancient map hidden within the Matrix of Leadership. Following him -- to the surprise of many -- as co-captain is Megatron, ex-Decepticon leader seeking to find atonement and inner peace for himself. 
Their search brings them nowhere after three years. But they've returned on news that Optimus Prime had passed, on following assassination from a mysterious enemy. They've returned, too, because they say the prophecy is coming true.
The prophecy says the era of the Primes are almost over and only one Prime will be left to lead them to glory. 
And Optimus had named Rodimus as the Last Prime.
_________________
Note: You do not need to have prior information and knowledge of Transformers or the More Than Meets the Eye comics to play.  
The Transformers Wiki
is available if you wish to know more about any characters!
Any and all continuities are allowed; however for some characters, please consider choosing one of the Generation One Autobots/Decepticons instead. 
Comprehensive lists:
CHARACTERS THAT MUST BE GENERATION ONE:​
Rodimus (will be played by me)​
Megatron​
Thunderclash​
Ultra Magnus​
Starscream​
Ironhide​
Chromia​
Windblade​
Wheeljack​
Optimus Prime (will be played by me, initiated in flashbacks)​
Arcee​
Kup​
Thundercracker​
Soundwave​
Galvatron​
The Decepticon Justice Division (Tarn, Vos, Kaon, Helex, Tesarus, Nickel)​
Jazz​
Jetfire​
Alpha Trion
Prowl
The Wreckers (Springer, Impactor, Roadbuster, Guzzle)
Perceptor
Rewind
Chromedome
Brainstorm
Skids
Nautica
Rung
Swerve
Tailgate
Cyclonus
First Aid
Drift
Ratchet
First Aid
(for others, check back with me)
​
OCs are also allowed! Will add some more stuff later on.