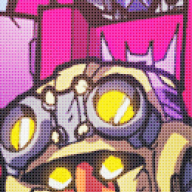 Joined

Sep 5, 2015
Posts

297
Location
Website
Planning and preview thread is here!
Premise:
 The war is over, and Unicron is defeated. Autobots, Decepticons and neutrals are now working hand in hand to rebuild their home planet after the battle against Unicron. In trying to restore tradition and bring Cybertron to its golden age glory, Rodimus leads a rag-tag team on a search for the legendary Knights of Cybertron, following an incident that led to a discovery of an ancient map hidden within the Matrix of Leadership. Following him -- to the surprise of many -- as co-captain is Megatron, ex-Decepticon leader seeking to find atonement and inner peace for himself. 
Their search brings them nowhere after three years. But they've returned on news that Optimus Prime had passed, on following assassination from a mysterious enemy. They've returned, too, because they say the prophecy is coming true.
The prophecy says the era of the Primes are almost over and only one Prime will be left to lead them to glory. 
And Optimus had named Rodimus as the Last Prime.
_______
Note: You do not need to have prior information and knowledge of Transformers or the More Than Meets the Eye comics to play.  
The Transformers Wiki
 is available if you wish to know more about any characters!
Registration rules:
Any and all continuities are allowed; however for some characters, please consider choosing one of the Generation One Autobots/Decepticons instead. 
CHARACTERS THAT MUST BE GENERATION ONE:
​
Rodimus (will be played by me)
​
Optimus Prime (will be played by me, initiated in flashbacks)
​
The Decepticon Justice Division (Tarn, Vos, Kaon, Helex, Tesarus, Nickel)
​
Alpha Trion​
Prowl​
The Wreckers (Springer, Impactor, Roadbuster, Guzzle)​
Perceptor​
Rewind​
Chromedome​
Brainstorm​
Skids​
Nautica​
Rung​
Swerve​
Tailgate​
Cyclonus​
First Aid​
Drift​
Ratchet​
(for others, check back with me)​
OCs are also allowed! 

Maximum of 2 characters per person. 
Maximum amount of weapons carried by your characters are 2 -- one light/mid-power firearms and one heavy firearms or melee weapon (like swords, etc)
If an outlier (an Outlier in this context is a Transformer with a special ability), try not to make it too OP!
If you choose to play as an OC, please also specify what your character's alt mode is!
GENERAL RULES OF THE ROLEPLAY:
No godmodding unless it's arc-specific and even then it will be temporary. Everyone has a weakness. 
Don't kill a character unless both players have agreed to it firsthand. 
Be flexible as the rules may change depending on the roleplay. 
Don't force romantic relationships onto a character unless both players have agreed to it firsthand. 
If anything is even SLIGHTLY NSFW in your characters' interactions, please do a "fade to black" -- i.e. skip right to after the NSFW scene. (Characters kissing don't count as NSFW)
Any suggestions, please use the Planning and Preview thread!
TEMPLATE:
Character:
Origins: (optional)
Faction: Autobot/Decepticon/Neutral/Colonist (delete what doesn't apply)
Biography: (a brief one is necessary; you can always get more detailed later on)
Gender: 
Outlier: Yes/No (delete what doesn't apply)
If outlier: state ability:
Primary Weapon:
Secondary Weapon: 
Personality: 
Appearance:
Alt mode: (applicable only if your character is an OC)
Note: if you choose to state where your character comes from, please check first if their origins are already stated --- some canon characters have their origins stated in canon (i.e. Optimus and Bumblebee are from Iacon, Rodimus is from Nyon, Skids is from Nova Cronum, Cyclonus is from Tetrahex, etc). Some, however, don't. If you want to go ahead,
here's a list of all listed locations on Cybertron.