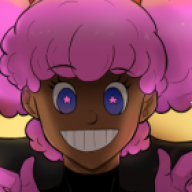 The Strongest
ADMINISTRATOR
Joined

Sep 3, 2015
Posts

8,222
Location
Pronouns

He/Him
So, I have been planning on doing this for a while, and I said, "screw it, what the hell, might as well try it". Essentially, I picked an anime to watch and I'll send my commentary as I watched the episode with little comments throughout the episode. I'll leave my major thoughts at the end of my overall thoughts of the episode before heading off to the next one.
You can comment on this thread, but no spoilers if you already watched it! You can ask for my further thoughts and the sort if something comes to mind, and I will response accordingly!
Anyways, time to jump in this rabbit hole! 
I can't remember much of the series aside from watching it once on Adult Swim when I was like around 10, maybe 11 years old. So this is a good series to start a watch from start to finished! I'm watching the series in Japanese (subs), since I want to experience its in original form. With that said... here we go:
Episode 1: Angel Attack
When that opening song hits. I do wonder how long it must've took them to make this opening. Especially the editing skills to ensure that it matched the beat of the song.
So we started off with an Angel attack and the military is essentially arm to the teeth. I noticed that several city blocks were completely flooded, while some aren't. I'm assuming they will talk about this soon. Also, the year is AD 2015 :thinking:
Blue-hair girl (Rei I think?) appeared for a brief second. I wonder what the heck Shinji was thinking being outside during an Angel attack. Didn't think the best option was to be at a shelter? 
Shinji, get the hell out of there! Almost got crushed by that building. Awfully strange that Misato appeared just in the nick of time to get him out of there. She drives crazy fast.
I like how the military is basically all "let's nuke him" and proceed to ignore the budget. Probably not the best idea of wasting billions of dollars.
Annnnnd the missiles doesn't do anything. HMM I WONDER WHY
AT Fields... so it protect them from conventional attacks. Did the United Nations not know about this? They seems to be very aware of these guys. 
So the Angel basically step on a nuke. Pretty sure Shinji and Misato would've been roasted for poking their head out of the car like that. Also, they survived the initial shock without much of a scratch on him. 
Shinji seems pretty chill here.
Misato repaying car debts is even more deadlier than angel attacks. Never trust salesmen!
Damn, Shinji got some sass on him.
So, Nerv is a secret organization under the United Nations that protects the human race. Once again, why did the military simply leave the job for them if had knew these kind of weapons won't do a thing against it? Feels like a complete waste of time. Though... I supposed they were trying to see if it'll eventually work... I guess.
"Hey, Unit 1 has no pilot"
"Don't worry, a spare is coming soon."
Yikes.
So Nerv is like a underground city? The map Misato is carrying to lead the way is confusing as heck.
Third child… so there's two more. 
So Shinji and his dad haven't met in three years.
Ritsuko and Misato having a convo about Unit 01 and Shinji is just busy reading the manual lmao
Jesus. Turned on the lights and show Shinji a big ass machine right in front of him. Lucky he didn't jumped back and fell into the water.
"Hey son, we haven't seen each other in three years. Anyways, get in the robot"
"No."
"Fuck you. Get in the robot or get out."
Even Misato is all "what?" at Shinji piloting the robot. Literally just a kid.
Ritsuo is all "nah, he can do it and because  we need to stop this angel."
On one hand, sure, but on the other hand, is children really the only thing capable of piloting this damn thing?
Can't really disagree with Shinji here. I would've been pissed and/or upset if my purpose for being here is essentially being a test tube baby.
Everyone is forcing Shinji to get in the robot… and when he refuses, they'll get a half-dead girl instead to convince. Ikari probably had no intention of putting Rei in the robot. He just did it to forced Shinji's hand.
I like the fact that the pilot is in a little tube in the robot
"Stop whining"
Bruh. He just got bribed into a giant mech against his mental will. 
Ikari…. that smile ain't right.
Well, that was an interesting cliffhanger. Nothing much do it other than the visuals was decent. Plot was kind a bit messy (in terms of everything happening rather quickly), but I like the approach of avoiding too many exposition dialogue. A monster attacks the city, they have a robot, but they need Shinji do it. Pretty simple enough. 
Will Shinji able to take down this beast without any formal training whatsoever!?