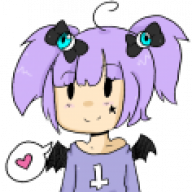 Joined

Jan 31, 2016
Messages

16
Hey Y'all, it's me Whisper!
Most of you would probably know me as Claradecent, though.
  My really good friend Loopypanda refered me here when I thought about quitting RPing because someone was harassing her on another site. I'm always here to help if you need and I love making new friends even if I'm shy at first just go ahead and say hey to me and I'll say hiyah right back. Hehe Talk to you guys later.