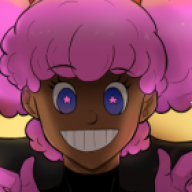 The Strongest
ADMINISTRATOR
Joined

Sep 3, 2015
Posts

8,222
Location
Pronouns

He/Him
It's April, the month of trickery and laughs. Of course, to express funny imagery and comedy, this event will focus on creating artwork of your favorite memes [regardless of origin]! You can draw an existing character, or your own, and used a meme/reaction as the base. Proposed by @LoopyPanda, you can also create characters/existing characters in different styles, such as Family Guy! If you are really feeling cursed, draw something completely off-model! Whatever you think is funny will be acceptable!
Events ends on April 30th at 12 AM PDT/ 3 AM EST / 9 AM CET / 3 PM MYT.
Rules and Guidelines
Post at least one entry to enter this event!
You can post as much as you want for this event!
You can use any memes, jokes, off-models, etc., as the base! As long it's safe for work, of course.
Link your social media as well! Show off that pinkness!
And that's it! Hope this allows you to improve your coloring ability by using limited color palette.