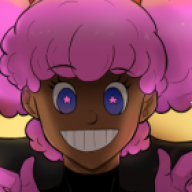 The Strongest
ADMINISTRATOR
Joined

Sep 3, 2015
Posts

8,222
Location
Pronouns

He/Him
Premise
: A group of college students was going on a field trip as required for pick out their majors once they finished two years of their college. However, along the way to the site, a tragedy struck. However, the students wake up and find themselves in another world, different from their original home. A strange being appeared before them, stating that their deaths had be halted temporarily—but in order to return to life and go back to their original world, the strange being asked them to save his world from destruction, but they are the most compatible ones who unleashed "Mecha Evolution".
Thus, they are task to travel around the world and defeat "Gods", including defeating their leader, Malvada, to restore freedom and liberty for all—as they get stronger and unlock more transformation to return their original world and go back to their normal lives.
What is Mecha Evolution?
Mecha Evolution is a transformation process that turns humans into machine warriors. They possessed incredible strength, speed, intellect and stamina to battle for long duration, using the Mecha Band latched within their arm. Mecha Evolution is the easiest level to maintain and doesn't drained stamina unlike the higher levels. The first stage has a more humanoid appearance. If a character is defeated or runs out of stamina, they will become destabilize and returned back to their human form.
General Rules and Information
You can pick any (and only) elemental abilities for your Mecha Evolution such as Fire, Ice, Water, etc. You can expand them in higher levels. Once the elemental is chosen, it cannot be taken.
You can base your armor on anything, from Animals, Dragons, even mythologies of your choosing. Just reminder that the first stage of Mecha Evolution will always be humanoid. Once we gain higher levels, it'll become more "beast-like".
You can only have 1 OC.
Cannot be younger than 21.
Don't distort things that were already established within the role-play without permission.
Character Template
Name:
Age:
Gender:
Appearance: You can described both the character and its Mecha Evolution.
Personality:
Mecha Name: 
Elemental: 
Special Ability:
Special Moves: [4 Moves Maximum]
Background: [Two Paragraphs Maximum]