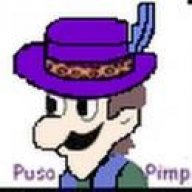 Joined

Nov 23, 2015
Posts

227
Hey all, welcome to my video gallery, where you can see my collection of YouTube Poops, Short Films and animations! I'll begin organizing this from my newest and better videos to my older ones. This thread is gonna be a work in progress for now, since as you can imagine after 7 or 8 years of video making my body of work is pretty sizable. 
This is a short 3D animation project I made in the spring of this year. Don't have much experience in 3D animation so it's not much.
[video=youtube]
This is only the second place I've shared this. I'm far from the soul creator of this little short, but I acted in it and edited it so I'll show it here for now. 
[video=youtube]
This here's my latest YouTube Poop, I've had less and less time to make them lately but I like how this one came out. 
[video=youtube]