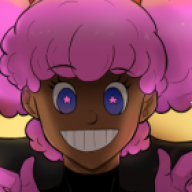 The Strongest
ADMINISTRATOR
Joined

Sep 3, 2015
Posts

8,222
Location
Pronouns

He/Him
It's October! It's a month of spooky things. And what's better to draw out your fears! Starting October 1st to October 31st, you are task with drawing a "scary" drawing! You can either do the following prompts below or pick anything that pops in your mind!
Rules and Guidelines
You can use anything, from traditional to digital.
You can post multiple drawings at once!
Post it in this thread
Link it with your social media account with the hashtag #FrightsNight
Rinse and Repeat until the end of the month!
October Daily Prompts
Creepy Smile
Ghost
Monster
Demon
Zombie
Moon
Hatchet
Knife
Baseball Bat
Mask
Forest
Skeleton
Scooby Doo
Evil Magical Girl
Witch
Wizard
Grim Adventures of Billy & Mandy
Clowns
Candy Man
Higurashi
Doctor
Aliens
Spiders
Graveyard
Space
Ocean
Bear
Bottle
Candy
Pumpkin
Draw Your OC in a costume