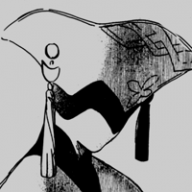 Joined

Sep 3, 2015
Posts

11,479
Location
Overview:
 The nation has been overrun and almost completely taken over by strange aggressive beings known as The Blind Ones. The Blind Ones have a zombie-like nature but aren't technically dead. This was caused by a chemical bomb attack on the nation's largest cities over 15 years ago. The Blind Ones, or Blinders for short, are blind due to their eyes being completely black from the chemical in their bodies; however, they can hunt using their ears and nose. Their hearing and smell are not enhanced but some Blinds have mutated special and unique abilities that allow them an upper hand in hunting prey.
Over the years, the chemical in their system has caused several of the infected to have a slightly better adaptation to their environment. Reports have shown that some Blinders living in the cold north have grown longer and stronger arms and legs to tread easier in the snow but seem to lack the hearing and smelling ability that regulars have due to most of their face being frozen over. They possess ruthless strength and are able to lift cars with ease. Some Blinders, however, have advanced so far that their have gained strange abilities that are almost always fatal. One report told of a single Blinder able to control a large mass of the regulars, letting them hoard around potential prey.
The only safe haven is Portland Oregon where the chemical never reached. The nation outside of Portland has grown into a jungle-like industrial wasteland. Laws no longer exist thanks to the lack of authority figures and people who are not infected take the law into their own hands. With the image of American down the drain, there are people who are trying to maintain this 'American name' but how they plan to maintain it might be scarier than the Blinders. 
TIP:
Food and Water have NOT been infected with the chemical and are safe to consume, even from the wild. Plants and animals are also NOT affected by the chemical and have grown in numbers over the last couple of years and are also safe to eat.
General rules (Subject to change!)
You can submit a Special Infected but you must first run it by me. I must approve it as well.
Your character can die/wish to die (Just let me know ahead of time and I'll work something out with you.)
Any and all plot devices must be talked with me first! Do not introduce new plot elements without my permission or your post will be ignored/deleted.
Don't distort things already established in the RP without my permission.
Only GM/OP can control Blinders unless you are given permission to do so. (I'll be flexible with this)
If you are bitten you will change into a Blinder within a certain amount of time.  No excuses!
No characters under the age of 15. This is an apocalypse, not a fairy tale.
No more than 2 characters. If you want to add more, you have to kill one or more of your characters off permanently. Only OP can have more than 2 characters (for plot sake).
If you are busy please let me know. If you don't, I'll just skip you after 1 week.
Template
Name:
Age:
Personality:
Appearance:
Major skill: Survivalist, Strength, Cook, Medic.
Small Bio:
---
Name: Ezra Myles
Age: 39
Personality: Mostly serious and tends to not tolerate mistakes. Rarely smiles and is slow to warm up on people. Those that he does trust tend to look up at him like a father figure and he is more willing to save them. He may be hard on people but he would not let anyone die.
Appearance: Dusty-Brown Wavy hair and small beard grown from age. Blue eyes with some dark circles around them. He has some scars on his arms and hands and a major one across his nose. He wears pants with many pockets and some hiker/military boots. He keeps his trusty combat knife, machete, and a gun at his waist at all times.
Major skill: Survivalist
Small Bio: Ezra was an average man who worked as a Uhaul employee when the chemical strike happened. He and his family were separated from each other at the start of the whole epidemic. He had to stay behind and allow his wife and kids to get taken to Portland so they can remain safe. His only mission in life is to reunite with his family. With the help of Boris, he has gotten through many thick situations involving the Blinders.
=======
Name: Boris Rockstein.
Age: 50
Personality: He's a bit of dare devil and loves to smash some Blinders up with his fists or any sort of melee weapon he has. He is very gentle despite his huge demeanor and tends to not really talk about his age to anyone. He loves to protect younger people and has a real heart of gold. He is almost a complete opposite of Ezra but he states that he could never abandon him because of the bond they share. He loves to drink and has a strong German accent.
Appearance: Huge bulky man with a full white beard. He may be old but he's no push over. He's got strong muscles all over his body. Since he mostly uses close range combat to fight, his arms, legs, and torso are protected with armor. He can use a variety of melee weapons. He has white hair and is very tall.  
Major skill: Strength
Small Bio: When the attacks hit, Boris was in New York working as a construction worker. He, along with his wife, had to fight Blinders together. When help finally arrived, Boris's wife was taken to Portland where she vowed to drink in his name. Boris traveled several years, aiming to go to Portland to finally reunite with his beloved Helga and celebrate until they drop. He met up with Ezra, saving him from a Blinder and the two seemed inseparable.
---
THE RP THREAD WILL BE OPENED SOON.
​