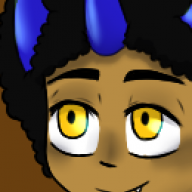 Joined

Sep 3, 2015
Posts

462
Location
Planning/Preview thread here!
You must register a tamer and digimon partner.
Tamer template:
Name:
Age: (College students)
Appearance: (basic required. Detailed optional)
Survival Skill: (max 2)
Training style: (optional to avoid training posts)
Background: (something basic)
Digimon Template:
Digimon type: (Agumon, etc)
Appearance: (If any differences exist)
Personality:
Background: (completely optional)
__________________________
Name: Forte Brass
Age: 22
Appearance: Black hair in a fade. Wears a black jacket with two vertical green stripes over a blue shirt. Green eyes and glasses. Cargo pants and thick soled shoes.
Survival Skill: Knowledge of plant life, UV rays
Training style: Conservative. Focuses on Defense and Brains.
Background: Botany major. Wishes to heal people with medicine. Overly protective of his friends.
Digimon type: Wormon
Appearance: Wears goggles
Personality: Timid. Doesn't like fighting. Stays near strong allies.
Background: Bullied for being a weakling. Dreams of being strong.