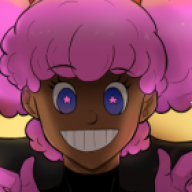 The Strongest
ADMINISTRATOR
Joined

Sep 3, 2015
Posts

8,222
Location
Pronouns

He/Him
Redraw Challenge aims to challenge your ability to redraw a screencap from an animated show, whether closely to it's style or use it in your own style. You have the creative ability to change things up in your redraw, as long it's at least close to the original.
Once you complete your piece, post it in the thread to enter. You will only have 15 days (ending on September 5th on 12 AM PDT/ 3 AM EST / 9 AM CET / 3 PM MYT!!) to submit it. There will be no extension, so get it done by that date. You can use anything in your disposal for this challenge to create your piece. If you're using digital drawing, make sure your work has an aspect ratio of 16:9 (1920x1080, 3840x2160, etc.). If you're using traditional work, you can deviate from the aspect ratio. Please use IMGUR for uploading your artwork.
As part of the Five Years of Boogaloo Celebration, showcase your take on BGC Mascot! A deviation from the previous redraws, you can do anything you want as long it has Suyoi on it!​