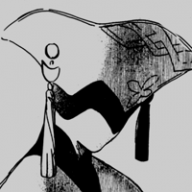 Joined

Sep 3, 2015
Posts

11,479
Location
Just a bit of a heads up. If I ever change something I'll be sure to post about in in this thread. This story will be a long one if I really want to get everything through. Those of you familiar with Kire might enjoy this story and how he truly acts. I'll be sure to put as much detail as I can and hope that you all enjoy this story. I'll try to put one chapter up every week or so.​
CHAPTER 1​
The sun's rays slapped Kire's face as he slept on the hard mattress. The man grumbled at the annoying pester of light that cracked through the shutters of his broken window. He lazily sat up from his slumber and scratched his bare chest, the bed sheets falling on the floor while he stretched. Letting out a loud yawn, he jumped out of bed and slipped into a very rundown bathroom. He barely kept his eyes opened while he did his business. The small apartment he hid himself in wasn't anything special. It was very old due to how the wall paint chipped off. No one lived in this apartment for several years and since then, no one decided to update it. Inside it was a single bed and desk along with many pieces of scrap metal and other things considered to be useless junk. Scattered throughout the room were several schematics that all have yet to be finished. Some things in the room seemed out of place; a digital clock with a built-in alarm rested on the desk. It looked as if it was made completely by scratch and almost futuristic by design. The clock was a black sleek color and the blue numbers flashed were the Roman numerals of X and L. Behind the clock was the full view of the gears and scraps at work, all of which were moving and ticking in absolute perfect unison. On the top rested a flat, solid black panel that was connected to several wires on the back of the clock. The clock was solar powered by basic objects and everyday scraps.
  
                Kire lazily dragged himself out of the bathroom and moved the window by the desk and moved the blinds to allow more sunlight to enter. He glanced down at the clock and rubbed his eyes. He groaned at how early it was.

                "Ugh, 10:50? I thought it was a lot later than that…" Kire yawned again. "Better get goin' before all the rich folk leave."

                Kire picked up a piece of glass from the desk and checked himself in his tiny mirror. His autumn red hair was messy and looked unable to tame. Opening a drawer on the desk, he dug through the many gizmos he had until he found a comb. Combing his tangled hair to how he usually has it, the final touch was the bandana he cherished so much. Opening another drawer, he pulled out an old looking bandana that was black with green dots. The fabric had holes in it which allowed Kire's hair to slip right through and spike out. Regardless of how old and battered it was, Kire refused to throw it away for reasons unknown. The man walked to the closet and dug for a clean shirt and pair of pants. Slipping into a white tank top and loose fitting cargo pants with many pockets, the man was ready to go. He slipped on some black socks, his boots and swiped his keys and watch that he made from the desk, heading right to the door. He was still half asleep but his stomach is what kept him moving. Locking the door behind him, he pocketed his keys and headed off to a restaurant he was very familiar with. He had an iconic smile on his face, one of which some people have come to known very well.

                The city was booming and many rich business men and woman were heading to eat some breakfast in the many fancy restaurants that littered the streets. With the many entitled money makers on one side of the city lay the troubled youth and deficit community on the other. One side rich, the other poor. Kire was familiar with both and knew these streets well. He did what he could to eat and survive another day even if it meant conning people; however, Kire seemed to most aim towards the rich. Kire stepped into a lavish restaurant with several businessmen people eating with chatting amongst each other. The food smelled as good as it looked. Kire began to search for a person who seemed to be eating a big breakfast. He locked his eyes on a man sitting all by himself, feasting on a big breakfast, even for him. Kire slipped by the crowd and any waitresses and casually sat himself across from the man. The man, around his mid-40s, was quite fit, even buff for his age. He wore a suit and seemed rather comfortable in it than most people. When Kire sat before him, he eyed him suspiciously due to that infamous smile of his.

                "Good mornin' sir, I hope you don't mind if I take a seat here, right?" Kire offered a chuckle. "I am wonderin' if you are lookin' for someone who can work for you."

                "I'm sorry young man, I am not looking for someone right now." The man said.

                "Ah, I see. What a shame too, I was hopin' that my skills would interest you." Kire lifted his hand to call over a waitress. The worker quickly rushed over to Kire's side. "Excuse me darlin', I would like to have exactly everythin' he's having', it looks very enticing. Separate tab of course."

                "Yes sir. Would you like anything to drink?" The waitress smiled and jotted down Kire's order.

                "Just hand me a bottle of water darlin'." Kire winked to the young lady.

                "Alright sir." The blondie blushed slightly before walking off with Kire's order.

                "What skills do you possess that would get me to hire you?" The man spoke once the waitress left. "You are rather confident for someone who looks rather rubbish."

                "Well I assure you that my skills will make you think less of my handsome looks and more on how it will benefit you. Allow me to show you…" Kire dug in his pocket and pulled out the watch he made. It looked very well polished and refine despite being made from scraps. "This is a watch I made myself. It's rather impressive, no?"

                "Well…" The man stared at the watch Kire made and seemed a lack of interest for the most part. "I'm impressed you made a watch but this doesn't look to be anything I would buy, let alone sell."

                "Ah, don't let its feeble appearance fool you, it's got a rather unique secret." Kire smirked before turning the watch over and removing the back plating that protected the insides. Inside the watch was almost entirely empty with the exception of a red chip about the size of a fingernail. He tapped at the chip and removed it from the watch and held it in his palm. "Not only does this watch have space to hide secret items but this chip is a tracking device."

                "A tracking device?" The man's interest was piqued slightly. "How can it track people from just the watch alone? Sounds a bit…farfetched to me."

                "The watch is wired to follow the actions of this chip for an hour for a range that's about a city block. It displays the location of the chip with a simple touch of a button." Kire tapped a button on the left side of the watch and the digital numbers switched to a small screen of an aerial view of where they were located in. It zoomed in on the restaurant they were in.

                "How am I so sure this will work?" The man's voice quivered.

                "Your food is here!" The waitress came back with the order Kire placed. "I hope you both will enjoy your food!"

                "Thank you darlin'." Kire smiled. "Can you please bring me the check for my food?"

                "Absolutely!" The young waitress turned around and headed to the register. At that moment, Kire flicked the chip to the girl and it latched itself effortlessly on her shirt.

                "It's got Velcro on both sides so it'll latch to any sort of fabric." Kire held up the watch to the man showing him a blinking white dot that moved around the restaurant. Every move the dot made was being made entirely by the girl. The man's eyes widen in disbelief. "See? You can trust lil' ol' me. I don't tell lies."

                "A-Amazing… H-How did you come up with this technology?!" The man watched the girl return and hand Kire his check for the food.

                "Hold on darlin', you got something on your shirt." Kire said while he plucked the chip from the blushing waitress. She smiled and went back to work. Kire smirked to the man. "It's rather easy but I rather not say my all secrets in a public place, I'm sure you understand, right?"

                "Yes, we can't have any spying ears." The man whispered. "This is incredible. Perhaps I do want you in my company. Please, tell me your name!"

                "Kire, Kire Rebbel." He stuffed his face with food.

                "Please, tell me more about yourself, I believe you've managed to catch my interest, Mr. Rebbel."

                "Right. Well, I make things using the junk that other people don't use. Basically, I make things almost entirely out of scratch." He munched loudly, taking loud gulps from his water. He took occasional pauses to swallow before he returned to answering the man. "The only thing I can say about the watch is that it was made using an older model of a watch I found. I just took out the insides, pushed everything to the side and made room for a chip. The internal battery of the watch was pressed against the backdrop and I simply put a very thin slice of metal to keep it from moving. That explains why the top of the watch is a little protruded from the base." Kire pointed with the fork. "You can even use the extra space to hide stuff. Think of it like a secret compartment."

                "This is astonishing Mr. Rebbel. Please allow me to inform my coworkers about this amazing find. Please, let me to take this watch from you to show your magnificent work to my coworkers."

                "Ah, y'see, I only have one as of right now." Kire said finishing the last bits of food he had. "I would love to but I don't wish for it to break. It's rather fragile…"

                "Oh, I see. Well, how can I keep in contact with you?"

                "Hmmm, Oh, I know." Kire pointed at his tab. "Just write your name down and tell me where you work. I'll pass by the company and ask for your name. Don't worry, I'll ask the waitress to give me a copy. I don't have anythin' else to write on so this will have to do."

                "That's quite alright." The man held out a pen and wrote his name down on the tab. "I work in the building right across from here. Nicestone Co. is what it's called. This will boost our sales by drastic measures!"

                "Totally, the rich keep getting' richer, huh?" Kire laughed while putting the tab in his pocket.

                "Absolutely, haha! The high class must keep everything in order as we always have. It's a big responsibility but with your help you'll make everything a million times easy. Well, easy for us. Haha!"

                "I can't wait." Kire frowned in disgust before checking his watch. "Oh hey, look at the time! I'm sorry sir, but I have to get goin'. It was a pleasure to talk to you and thank you for this opportunity. I gotta meet up with someone and I'm running a bit late! I'll be sure to swing by your place and give you a call."

                Kire rose from his seat and shook the man's hand with a cocky smile. He walked away from the man and rolled his green eyes, obviously happy to free himself from his presence. He headed to the register and waited for the cute waitress to return. When she finally did, she eyed Kire lovingly and fixed her apron. Kire looked at her from head to toe and held up the tab he pulled from his pocket. Knowing this girl had a small attraction to him, he winked at her again which made her wiggle in her spot.

                "Hey there darlin'. Listen, the kind gentleman over there has offered to pay for my food." Kire held up the signed tab and placed it on the table near the register. "He said that you add this to his tab. He even signed it in case you couldn't put it on his bill or didn't believe me."

                "Oh! How very nice of him! Giving a handsome man like you a free meal." The woman chuckled. "No problem, I'll just put your meal on his tab. I hope he knows how much he's going to pay."

                "Nah, I wouldn't worry so much…" Kire said glancing at the man. "He's rich, what's payin' a little extra gonna do to him?"

                "Ah, that makes sense, yes."

                "Well, I must be goin' darlin', I gotta be somewhere." Kire said as he plucked a toothpick from a dispenser and walked casually out the door, waving to the pretty girl. Once he was out, he let out a loud burp from a full stomach, flicking the toothpick in his mouth. "Greed sure has its way, huh? Whatever, it paid for my meal so it ain't all bad. Maybe later, I should try my wits on the new seafood joint. I haven't had a nice taste of the ocean in a long time." The man chuckled to himself as he disappeared within the crowd of people.
This will be posted in the Critic Section when I add more chapters. Text above is subject to change.
COMPANY NAME WAS SWITCHED TO NICESTONE CO.​