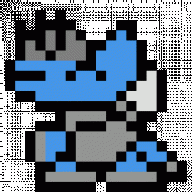 Joined

Sep 4, 2015
Messages

58
Location
On an unknown plateau in Venezuela, lives many prehistoric reptiles that were long thought to be extinct. Among the most mightiest animals to have ever walked the Earth, only the most bravest of souls can venture here if they have any intentions of leaving alive. Or, possibly, taking something back with them from this journey here. A warning to all those who enter here, though, as this location is full of savage Dinosaurs. Even the herbivores are in a state of being constantly agitated, and the carnivores will attack and attempt to eat anything that moves. Pterosaurs will often swarm towards targets who expose themselves in wide, open spaces, and these same areas also attract the attention of the most dreaded Dinosaur in the region; the
Tyrannosaurus rex
.
---
Chronicler and Dragora were heading towards this region at a swift pace. He had heard of some kind of treasure here, but didn't know what he was getting into. Dragora, flying towards the region with Chronicler on his back, lands in a small clearing where he plenty of room to land. As Dragora looked around, he seemed rather paranoid about his surroundings.
'These Dinosaurs will more than likely be trouble...'
Dragora growled towards Chronicler, as Chronicler sighed, holding his right hand out and generating a tiny, raw mana crystal in his hands.
"Doesn't matter, they can't handle magic. Just like every other Earth animal." Chronicler spoke, as he sheathed his claymore with his left hand, before promptly moving to charge up a much larger mana crystal using both of his hands at once, to where it eventually began surging with raw energy before Chronicler applied the time element to it, causing it to turn gray and begin surging with a dust-like material surrounding it.
'Temporal Blast. Is that you had me drag you out here? Just to practice a spell as insanely powerful as that.'
Dragora asked Chronicler, as the latter grinned.
"Well, that's one of the reasons." Chronicler said, before taking note of two
Ceratosaurus
gathering before him, one having larger head ornamentation than the other, and was more colorful in appearance. In a moment's notice, Chronicler fired the time mana crystal in their direction for a blast of Runic Shot, in the form of a spell called Temporal Blast. Upon coming into contact with the male
Ceratosaurus
, the male suddenly froze in movement, before turning to stone and crumbling to dust.
However, as Chronicler realized the spell took up all of his remaining mana for the time being, and the fact it was the middle of the day, meant he couldn't recharge his mana until sunset would arrive. However, that didn't seem to bother him, as the female
Ceratosaurus
approached him, and had every intent of killing Chronicler... until out of the blue, an
Allosaurus
ambushed the much smaller
Ceratosaurus
and killed it by biting onto it's neck and snapping it, causing the
Ceratosaurus
to collapse, dead. Chronicler, meanwhile, did not respond so confidently towards the new arrival.
"Well... Dragora... Mind helping me out here?" Chronicler asked, in a sheepish tone, as just before he could reach for his dual swords, the
Allosaurus
roared in their direction and was seemingly making a charge towards them, before Dragora quickly grabbed Chronicler with his jaws and tossed him onto his back and taking off into the air. The
Allosaurus
, having merely performed a bluff charge, stopped where it was and went to the
Ceratosaurus
carcass and began to eat it's fill. Dragora and Chronicler, meanwhile, sought out a better place to land.