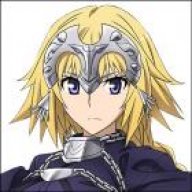 Joined

Oct 10, 2018
Posts

26
Location
This story is based on the Fairy Tail universe but also includes characters from other series including Your Name, Gundam, Tales of Vesperia, etc. The two main characters are OCs of mine, and I know there are people out there who have problems with OCs, but I hope you will give them a chance. With that said, I hope you all enjoy!
Chapter 1: The Heroes of this Perilous Adventure
Inside a room in a housing apartment somewhere in Singapore, a man is slurping his noodles from a bowl while sitting in front of his flat-screen computer. He has messy black hair, black eyes and wears glasses, a simple blue t-shirt and brown khaki shorts. As he ate his food, he could hear his mother calling from outside of his room.

"Darren, you better not dirty your room again as you eat your food inside!"

Darren swallows his noodles before turning his head to the side and replied in annoyance, "Ma, I won't!"

After putting his bowl aside, he places his fingers on the keyboard. He leans towards the screen of his computer and adjusts the speaker of his headphones.

"Alright guys, we're heading to Watchpoint: Gibraltar." Darren said to his speaker. "Remember the strategy we discussed. I'm going to play as McCree and one of you guys better play as Ana. And please, no more than two tank heroes and at least one defense hero! In a previous match, the other team had four tank heroes and absolutely no defense heroes and we all know what happened to them."

Darren gazed on the screen as the match begins. As soon as he steps out of the starting point, Darren shot down one enemy with military precision. One enemy however took out one of his teammates, but as soon as he reloaded his weapon, Darren took out that enemy with only a few shots to avenge his fallen teammate. His other teammates took out two other enemies while Darren moves his character over to the payload and gets it moving.

After the remaining two enemies fled, his teammates gathered around the payload to help him move faster. One teammate who got eliminated earlier has return back into the game and quickly goes over to them from behind.

As they moved the payload, Darren speaks to his teammates through his speaker, "So Sonicfire, did you watch the latest episode of One Piece?" The man momentarily fell silent as his teammate replied to him. "I know right? That guy totally ripped Zoro apart. Geez." Darren paused again when another of his teammates speak to him. "No, Dragostea79, they still haven't found the damn treasure after 24 years. But hey, at least be glad that Eiichiro Oda is consistently updating his story, and not making it slow as molasses like Berserk."

When they got near the first checkpoint however, an enemy positioned himself at the middle of the top of a metal platform in front of a giant door and transforms into tank mode. He fires a rain of bullets at Darren and his team, eliminating three of them.

"Dammit! I knew one of the enemies will respawn as Bastion! Fall back!" Darren quickly hides behind a nearby pillar while his remaining two teammates hide in the room beside them. This allows the other enemy players to come out of their hiding places and surround the payload.

Darren briefly brings up the status screen and sees who the two characters his surviving teammates are playing as are before going back to the game.

"Okay. DukeTheDaring, distract that Bastion with your Zarya's Particle Barrier. Sonicfire, use your to fly over to Bastion and bring up your EMP barrier to block his firing. I'll take out that Bastion and his surrounding teammates in one blow." Darren ordered his teammates.

His teammates obliged. They come out of the room and Duke's Zarya brings up a barrier around 'herself'. As every enemy in the room focus their firing at 'her', Sonicfire's flies over to the enemy Bastion and brings up an EMP barrier to block his firing.
The barrier around Duke's Zarya disappears and 'she' gets taken out by the enemies. But as soon as 'she' got eliminated, Darren's McCree comes out of his hiding place and unleashes his ultimate attack. He aims at the Bastion and all the enemies in his sight and a second later, he fires his bullets at all of them, eliminating the entire enemy team including their Bastion at once.

Darren and Sonicfire move their characters back to the payload just as their other teammates returned back to life and they secured the first checkpoint.

"AHAHAHAHAHAHAHA!" Darren cackled, taunting the enemy team. "How do you like that?! You go high noon'd, suckers!"
Suddenly, his moment of triumph got rudely interrupted when an irate player started letting out his frustration and shouting obscenities at the man and his teammates. The man's frown of annoyance quickly turned into a sly smirk as he presses a key and replies to the person.

"HAHAHAHA! You god damn crybaby. You only know how to Kao Pei Kao Bu and blame Blizzard for stuff just because you suck so much ass. Don't like it than don't play and just quit lor!"
(Kao Pei Kao Bu – Hokkien sentence used for people who makes a big fuss over something.)

Darren and his team continued playing and trudging on until they successfully escort the payload to the end of the map, winning the match. He sighs blissfully as he removes his fingers from the keyboard and leans back on his chair.

"That's my 51st victory to my continuing winning streak." He said as he places his hands behind his back. "I truly am awesome."

The door behind him opened and a short 13-year old boy with short black hair and wears a white t-shirt and blue shorts pokes his head into his brother's room.

"Gor, your ang moh girlfriend is here." The boy said to Darren.
(Gor – Singaporean slang for 'brother')
(Ang moh – Singaporean/Malaysian slang for 'Caucasian')

"Ang moh?" Darren turned his head and glances at his brother with an arched eyebrow. "You mean Alicia? She's here?"
"Yeah, and she wants to talk to you."

"Huh? Okay. And for the last time, she is not my girlfriend!" Darren snapped at his brother.

"Wah lao, you got an ang moh friend and you don't consider her your girlfriend?"
(Wah lao – Hokkien sentence usually used by Singaporeans to express surprise and disappointment)

"Shut up, you disgusting brat." Darren muttered as he turns back to his computer just as the next match is about to begin. His younger brother sticks his tongue out before walking away and leaving the door open.

As Darren leans forward to the screen of his computer and picks his next character, a young woman opens the door wide and enters his room. She has blonde hair, tied to a single ponytail, carrying a black sling bag and dressed in a white short-sleeved school uniform, a dark green skirt and white socks.

"Hi Darren. Nice to see you here." The girl greeted as she waves her hand at him.

"Hey Alicia." Darren replied while his eyes are still fixated on the screen. "What do you want to talk about? And why don't you just talk to me over the phone?"

"I want to talk to you personally. This is really important." Alicia said to him. "So can you please stop playing for a moment?"
Darren groans and rolls his eyes. "Fine." He presses a key to speak to his teammates. "Sorry guys, but I have to go now. Bye."
As Darren exits himself from the game, Alicia removes her ribbon from her ponytail, letting her long blonde hair hang down freely to her waist. She turns her head around and examines her friend's room. On her left, there are anime and video game posters pasted on the wall. Right in front of her and next to Darren's computer is a large wooden shelf. The top two shelves are filled with tons of video game boxes being arranged vertically while the bottom two are filled with several anime and video game merchandise ranging from statues and poseable action figures.

Right beside her and behind Darren is his bed. On the right side is a flat-screen television hanged on a wall and below it is a video game console and two controllers placed on top of a small and wide wooden drawer.

After he is done, Darren turns around and faces Alicia. "So, what is it that you want to talk to me about?" He inquired.
Alicia lets out a sigh. She has no idea how her friend is going to react to the news she is about to deliver to him. However, she knows that there isn't an option for her to turn away anymore.

She gently puts down her sling bag and goes over to the front of Darren's bed. She sits down and kept her head down. After a few moments of remaining silent, Alicia looks up at Darren, frowning worriedly.

"I'm returning to Wellington after my graduation."

Darren's eyes widened with his mouth slightly agape. "Really?"

Alicia nodded. "Darren, I'm just a foreign student here and my parents are awaiting my return back in New Zealand. They want me to study in a university back in my own country after I'm done with my college education her. I want to tell you this personally because…I'm worried about you. When we first met, you told me that you don't have any friends at all until I came along. You felt really lonely and quiet back then. But as we hang out with each other more, you became a lot happier and…I'm glad to see that. So I'm worried that if I were to leave, you'll have no one in your life all over again. So I really want to know, can you take care yourself after I'm gone?"

Darren stared at Alicia wordlessly with his mouth slightly agape. He had no visible reaction for an entire minute. Feeling concerned for her friend, Alicia asked worriedly, "Darren?"

"It's okay." Darren finally replied. Alicia widens her eyes.

"Really?"

"Come on Alicia, don't worry about me." Darren's lips take form of a small reassuring smile. "I'm 20 years old now. I can take care of myself. I'm still unemployed but since I've graduated from college with flying colors, I don't have to worry about rushing to find a good job right now. Besides…" He adjusts his glasses. "If your parents want you to return to New Zealand, I won't stop them because I don't want to be selfish."

Alicia slightly drops her jaw for a moment, as if she wanted to say something. But she later shuts her mouth and shakes her head.

"Yeah…" She murmured before lowering her head. "I guess so. Thanks."

Darren hangs his head as well and the two stare at the floor as he speaks, "I'm grateful to have you as my friend."
"Likewise." Alicia replied.

Suddenly, the door opens and Darren's brother pokes his head into the room again.

"Gor, mommy says lunch is ready." He said.

Darren and Alicia lift up their heads and turn to him. "Coming, Jerry." Darren said to his younger brother. He and Alicia turn to each other and he smiled, "You want to stay for lunch? My mom makes the best."
Alicia silently nods her head.

-----

Darren and Alicia sat with his brother and mother at the dining table and enjoyed the meal that his mother had prepared for them.

During their meal, Alicia happily converse with Jerry and his mother while Darren silently ate his food. Not only did Alicia love the food that Darren's mother had cooked, she enjoyed telling his family about herself and all sorts of interesting information about New Zealand. Darren on the other hand remained quiet and expressionless throughout lunch.

When they finished eating, Alicia thanked his mother for the food and told her that she will be staying in their home for a little longer. His mother bows her head, cordially welcoming her to stay. Alicia then turns to Darren and gestures him to go back into his room. The two then got up from their seats and head back inside.

When the two step into Darren's room, Alicia closes the door behind her. She whirled about and sees Darren smiling at her while extending out a controller to her.

"So Alicia, since you're going to stay here for a while, wanna play some Tekken Tag Team Tournament 3 with me?" Darren coaxed.

"Darren, you know I don't play video games, right?" Alicia frowned at him as she folds her arms.

"Come on Alicia, it will be fun. Besides, I've grown exhausted from playing so much Overwatch today so I'm now moving onto my console."

Alicia groans as she reluctantly takes the controller from Darren. If there isn't anything else she can do to spend her time with her friend, she mind as well play along with him.

"That's the spirit." Darren said as his teeth breaks out into a grin. He picks up another controller from the table and the two sat down together on his bed and face the television. "Let me just turn on the console." Darren pushes the power button on his controller and his console automatically turns itself on. "There we go." As they wait for the console to set itself up, Alicia turns to Darren.

"Darren, I'm speaking to you as a friend about this. But sometimes, I honestly wish you can prove to everyone that you are capable of so much more." She uttered.

Darren's smile flips into a solemn frown as he remains silent and waits for the console's main screen to come up. When it does, Darren advises Alicia to press the power button of her controller in order to connect to the console. After selecting their profiles, the home screen appears.

Suddenly, a notification appears at the top left corner of the screen.

"Hold on, I got a message. Let me check this one first. It's coming from a user named 'Vimas'. Probably an invitation to challenge me to a match." Darren said to Alicia. His friend watched as he goes to his inbox to take a look at his latest message. When he opens it up, the two widen their eyes as they read the message. "What the?"
Sender: Vimas
Hello Darren and Alicia,
I wish to play with the both of you.
If you want to, insert 'Tekken Tag Team Tournament 3' now.

Alicia trembled as she and Darren stared at the screen in complete horror. "D-D-Darren…h-how does this sender k-know my name?!" She struggled to say the words out of her throat. "E-especially when… t-the message is a-addressed to you?!"
Darren took a gulp before turning to Alicia. "What should I do?"

"You're asking me?!" Alicia snapped. "Of course you should delete this message right away! The sender is obviously some sort of scammer!"

Darren turns back to the screen and stares at the message for a few moments. Then, much to Alicia's surprise, Darren's lips form into a smirk.

"Let's accept the challenge."

"WHAT?!" Alicia yelled incredulously. Before she could think of trying to stop him, Darren already inserts the game disc into the console, much to her dismay and horror.

"Vimas, you are going down!" Darren yelled confidently.

"Darren, what are you doing?! How can you trust a person who sends you a message like that?!" Alicia cried in terror.

"Chillax, Alicia. This is the gaming world. You get messages and challenges from total strangers all the time." Darren smiled at her.

The two turn back to the television as the game's main screen appears. An invitation from the mysterious 'Vimas' pops up and Darren immediately accepts it.

"Come on Alicia, prepare yourself. You're my tag team partner for this match." Darren said, gazing at the television screen as he selects his character. Alicia lets out a sigh before holding up her controller and picks her own character.

"I don't know if I can do this, Darren." Alicia said nervously.

"Oh don't worry Alicia. Fighting games are all about rotating the joystick and mashing buttons. It's not hard at all." Darren reassured his friend. "Oh yeah, and you need fast, reflexing fingers so…that's the challenge to that." As the match begins, the two turn back to the screen. "Alright, let's see which two characters this Vimas chose to play as."

The opponent's character appears on screen by taking a huge leap and lands on the floor of the fighting arena with a huge thud. Darren widens his eyes and drops his jaw incredulously. It is a large monster that stands three times taller than the characters Darren and Alicia are playing as and resembles a primate. He has white fur, has pointy head and ears, black legs, a long black tail, white eyes and long and muscular arms that reach down to its knees.

"Darren, what's wrong?" Alicia asked, seeing the baffled look on her friend's face.

"I-I-I-I-I don't know!" Darren stuttered. "I-I've never seen this character ever in my life! Never in this game or any other entries in the series!" But a few moments later, his reaction instantly turned from bewilderment to amazement.

"Probably a hidden secret character that hasn't been discovered until now! I'm so jealous of this Vimas guy now!" He whooped excitedly. He lowered his head and adjusts his glasses as he smirked.

"But it doesn't matter. Even if I've never seen this character in my life, it is my duty to take you down!" Darren declared as he jabs his finger at the screen of his television.

"What?" Alicia uttered.

Darren firmly grasps onto his controller with his eyes fixated on the television. "Come on Alicia, let's take him down." He said to her solemnly.

"Alright." Alicia turns back to the screen and they both begin playing. Darren goes first. His character delivers a barrage of punches and kicks to the opponent's character.

However, only ten seconds into the match, the opponent's character fires a huge energy blast from its mouth. The health bar of Darren's character instantly depleted much to the astonishment of him and Alicia.

"What…the…" Darren managed to whisper out.

A second later, Alicia's character enters the screen.

"What?! My turn now?!" Alicia panicked.

"That's right! Fight him! Go!" Darren cried.

Alicia then randomly rotates the joystick and mashes the buttons on her controller, causing her character to just stay at her spot and just throw its punches and kicks in vain.

Another five seconds later, the opponent's character goes over to Alicia's character and repeatedly punches her before delivering a powerful uppercut, sending her into the air and instantly depleting all of her health.

After losing the match, Darren and Alicia gazed at the screen with their jaws plummeted.

A message then appears on the top left corner of the screen.
Sender: Vimas
Do you wish to give up?

Darren's grip around his controller began to loosen. But a few seconds later, he firmly tightens his grip around the controller and fire lit up in his eyes as he quivered in rage.

"You really think I'm going to give up just like that?! No freaking way!" Darren shouted. He selects the 'rematch' options and he and Alicia find themselves fighting against the same opponent again.

He places his hand on Alicia's shoulder. "Come on Alicia, we can take him down. Just follow my lead."

Alicia took a hard gulp before holding up her controller. "Got it."

-----
Twenty seconds later…

After losing another match against the mysterious Vimas, Darren and Alicia groan as they fall back and lie down on his bed, putting aside their controllers.

Another message appears on screen and Darren lifts his head up to look at it.
Sender: Vimas
I think you really should give up.

Darren growled through his gritted teeth as he gets up from his bed and sat upright. "GIVE UP?! NEVER!"

Alicia also jolts upright from his bed and stares back at the television screen as Darren restarts the match.

"Come on Alicia! One more time!" Darren shouted.

"Got it!" Alicia nods her head, her eyes narrowed with determination.

-----
Thirty seconds later…

Darren and Alicia sigh heavily as their shoulders drooped.

"At least we lasted thirty seconds this time around." Darren said wearily.

"And we managed to remove almost half of his health." Alicia added. Then, a message appears on the top left corner of the screen again.
Sender: Vimas
If you can't win, just give up already.

"UUUUUGGGGGHHHHH!" Darren and Alicia both growled angrily.

"THIS GUY IS REALLY MOCKING US AT THIS POINT!" Darren bellowed.

"WE'RE NOT GIVING UP THAT EASILY!" Alicia screamed.

Darren then selects the 'rematch' option again and they both shout in unison, "ONE MORE TIME!"

-----

Meanwhile, at the living room, Darren's mother and younger brother are sitting on the couch watching television together. Darren's mother lowers the volume of the television and turns her head to the side when she could hear noises coming from her older son's room.

"What is it?" Jerry asked his mom.

"Nothing." She re
plied as she turns to her younger son with a wan smile. "I guess your brother and his friend are having lots of fun in there."
"Maybe they are…you know…" Jerry gave his mother a sly grin. His mother gave him an irritated scowl before slapping his shoulder. "Ow!"

-----

"COME ON, COME ON, COME ON!"

"KICK HIS BUTT DARREN!"

"KICK HIS BUTT TOO, ALICIA!"

"GIVE A GOOD BEATING TO THAT NO-GOOD POINTY HEAD PRIMATE!"

It was an extremely tough fight for both Darren and Alicia and their battle would continue on for another twenty rematches. But finally, after ten minutes of mashing buttons and shouting enthusiastically at the television, they did it.

They finally defeated their opponent.

Darren and Alicia wordlessly gazed at the television screen with mouths agape as their characters strike their victory poses.
"We did it…" Darren murmured under his breath.

"We did it…" Alicia uttered. Then, huge smiles take form on their faces. They both stood up from the bed and shouted ecstatically as pump their fists into the air.

"WE DID IT!"

The two turn to each other and laugh triumphantly as they pull themselves into a tight embrace.

"Darren, you were awesome!" Alicia whooped.

"So are you, Alicia! Not bad for the first-timer!" Darren replied.

They both continued laughing until the two suddenly snap their eyes open and look at each other in surprise, realizing that they are wrapping themselves tightly in an embrace.

The two quickly remove their arms and turn away from each other as their faces blush in embarrassment. Darren scratches the back of his head while Alicia sheepishly places her arms behind her back.

They turn back to the television when a new message appears on the top left c
orner of the screen.
Sender: Vimas
Congratulations, you two. That sure was a tough battle, wasn't it?

Darren holds up his controller which is still in his hands and replied to the message.
It sure was. You're a pretty tough fighter. But at the end of the day, we still triumph over you.

After sending his reply to his opponent, Darren and Alicia stood still and silent, waiting for Vimas' reply. A few moments later, it came.
Sender: Vimas
That's good. Really good.
You two are worthy.

Darren and Alicia widen their eyes as they stare at the message incredulously.

"What?"

That was all they could both utter before suddenly, the television turned white and bright and burning light burst out from the screen. Darren and Alicia both let out cries of horror as the light illuminates the entire room and everything went white.

-----
'Huh…do I feel wind?'

"DARREN!"

Darren snaps his eyes open upon hearing Alicia's horrified scream. To his surprise, he finds himself in the sky and plummeting through the air. He turns to Alicia who is clenching onto him tightly and staring back at him with her eyes wide and shaking. The two could feel their clothes and hair blowing through the wind.

"WHAT'S GOING ON?!" Alicia shrieked.

"HOW WOULD I KNOW?! IT JUST HAPPENED!" Darren shouted back at her.

"Hey guys, look up!"

Darren and Alicia lifts their heads up and see the source of the voice flying towards them from above with her arms and legs spread out.

When the girl descends to their level, she gets herself into a standing position and places her hands behind her back. She tilts her head to the side and greeted the two with a tender smile. "Nice to meet the two of you! I'm Vimas and welcome to my world!"

"You're Vimas?! Our opponent?!" Darren inquired as he and Alicia now have a better look at the girl. She has long and curly bright blonde hair, dark green eyes and dressed in a white long-sleeved dress and a large red ribbon around her neck. The most distinguishable feature about her is what looks like white feathered wings sticking out from where a person's ears would be.

"Yup. But well, Vimas is just an acronym of my real name actually." The girl smiled at the two sheepishly as she scratches the back of her head. The girl then spreads out her arms as she proclaimed to the two who continued staring at her in bewilderment. "My real name is actually Mavis. Mavis Vermillion. And welcome to Earthland!"

"Earthland?" Alicia said.

"Mmm." Mavis nodded. "I'm an elder God! Me and my friends watched over this world for many generations. But now, our world is in grave danger and I have chosen you two to save it!"

"Huh?!" Darren and Alicia both cried incredulously.

"Chosen us to save it?!" Alicia then said.

"Like what?! We're chosen heroes or something?" Darren inquired.

"That's right." Mavis nods her head again. "You two defeated me in a battle, and that's why I've decided to choose you two to be my world's saviors! Now take it!"

Mavis holds out her hands and suddenly, a red scabbard and a brown sling bag magically appeared in front of Darren and Alicia. While still clenching onto each other, the two each reach out a hand to grab the stuff in front of them. Darren takes the scabbard while Alicia grabs the bag.

"Inside them are your sacred weapons created by the elder Gods, which I'm one of them!" Mavis paused for a moment to place a finger on her cheek and wink an eye at them. "Use them to fight the Alvarez Empire and defeat their evil leader, Lord Zeref!"

"HUH?! You mean you want us to fight?! Like actual fighting?!" Alicia cried in disbelief.

"I don't understand what you're saying, Mavis! Everything you're telling us sounds like the storyline of a JRPG! What is going on here?!" Darren yelled incredulously.

"I wish we could chat longer but that's it from me! I hope we can see each other again soon. Ta-ta!" Mavis flaps her hand goodbye before she magically disappears in front of the two.

Darren and Alicia turn their heads and stare at each other for a few moments before they realize they are still falling through the sky. They turn back to their front and scream in horror as they plummet further down to the bottom.

Fortunately however, there is an extremely large lake waiting for them at the bottom.

But, they splashed into a large pool of muddy water located next to it instead.

A few moments later, Darren and Alicia gasped for air when they reach the surface of the muddy water. After making sure they are still holding onto the scabbard and bag that were given to them, the two quickly swim over to the edge and pull themselves out of the pool.

While Darren puts the scabbard down on the ground, Alicia puts on the sling bag over her shoulder and looks down at herself. 
"Oh God…" She cried in disgust as she sees that her school uniform and long hair are wet and covered in mud. "This really sucks."

After wiping off the mud and water on the lens with the pocket of his shorts, Darren puts his glasses back on and looked down on his shirt. "Wah lao eh, this is my favorite t-shirt. Now look at it." He said indignantly.

Darren wrings out the water from his shirt. Despite doing so however, his shirt is still covered in mud stains, much to his displeasure. He lets out a heavy sigh before picking up his scabbard. He turns to Alicia who gazed at the front with her eyes wide and mouth agape in horror.

"Darren…" She said, barely unable to speak above a terrified whisper. "Where are we?"

Darren turns to the front and sees that they are standing in the middle of a huge grassy field with several scattered pine trees and large bushes. There is a large lake at the side and in the distance are several tall rocky mountains with pure white snow covered on top of them.

"I don't know…" Darren uttered as his arms drooped to his sides. "But we are definitely not in Singapore anymore."