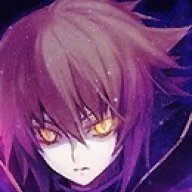 Joined

Sep 18, 2015
Messages

336
Location
IName: Allein (Alone in German)
Age: 43 1/2
Gender: Female
Height: 5' exact
Weight: 138 lbs
Species: Demon
Appearance:
http://www.indiedb.com/groups/anime-fans-of-moddb/images/random-demons2
Personality: cunning and cruel she is usually heartless to those around her.
Abilities: Transforming: she can change her shape at will.
Demon blasts: red demon energy blasts fired through a point in her hand ranging from destructive Palm blasts to quick finger sized ones.
Blood sword: She summons a blood red sword that absorbs her enemies blood to get stronger.
Biography (1-2 paragraphs explaining your character's history): Allein is called the lonely one due to her cold attitude that no one wants to be around her. She tends to belittle others and get in their heads while teasing them about their tragedies. She is a bully pretty much but if she finds something that interests her, then she will keep after it till she either finds it or another that interests her. She has been trying to change her attitude but it became a habit.