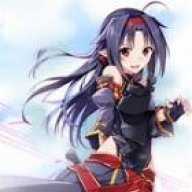 Joined

Feb 17, 2017
Posts

29
In order before entering the realm of Asmirith you always have to find a loving place to fit in first and that is what we do here,I must ask please keep this thread clean I will not be having any character bashing within this form if anyone gets jealous or anything of one another.
Rules on this thread: If you get chosen or you are under pending or being reviewed we will have a Available/Not Available Icon so you can check weither you made to cut into the roleplay or not.
Once more I state use your own ooc do not steal styles if I see it the person that the character was created by legitimately would be automatically able to join out of default since it was thier character to begin with.((even if the other doesn't roleplay or not roleplay this Queendom is about equality and everyone's rights matter and are able to be expressed here))
No trying to sneak and kill others who are trying to join.
If your character is under construction and new or you don't wish to pour specific details you may write N/A for not available and it will not affect you so have no fears or shed tears since some are learning this would be a great place to come to while new to the branch of roleplay as well.
You have full ownership and control over your character and you have many obliged rights 
If you want to put more than one character just please stick to the same thread and keep both separate I really would get confused to fast if it is all jumbled.
Please be honest when filling out your form do not exaggerate to look more better than others not to be mean but its not cool and that attitude would more likely result in Automatically getting yourself Denied (with the deny entry icon)
Character Registration Form:
Character name:
Characters date of birth:
Characters Height:
Characters Weight:
Characters Orientation:
Characters Occupation((Working,Employed,Un-Employed)):
Characters Spouse((Married,Divorced,Single if the have no spouse put single,widowed etc)):
Characters Religon((State N/A if none))
Characters Description :
Characters History:
Characters Hobbies:
Characters Weaknesses:
Characters Strengths:
Characters Skills((If any)):
Characters Weapons((If any)):
Characters Morale Beliefs/Thoughts((Express the characters perspectective on life and what life is or should be to thier views of passion here)):
Characters Kin/Family((If Any)):
Characters Favorite Quotes:
Characters Favorite Songs:
Characters Picture Here((Can be anime ,or whatever you imagine them to be as just please do not use any copyrighted images I am not interferring with theft involving real life laws or getting into any source of trouble just because of a stolen picture that was not proved upon)):
Previous Roleplay Experiences(If
none that is okay please don't be afraid to be honest and admit that you are new to the role-play world.if too personal just put N/A
)):
If you wish to know about the available characters listed in my other thread please ask me privately about the character I do not want any of my characters to be jiffed or stolen.